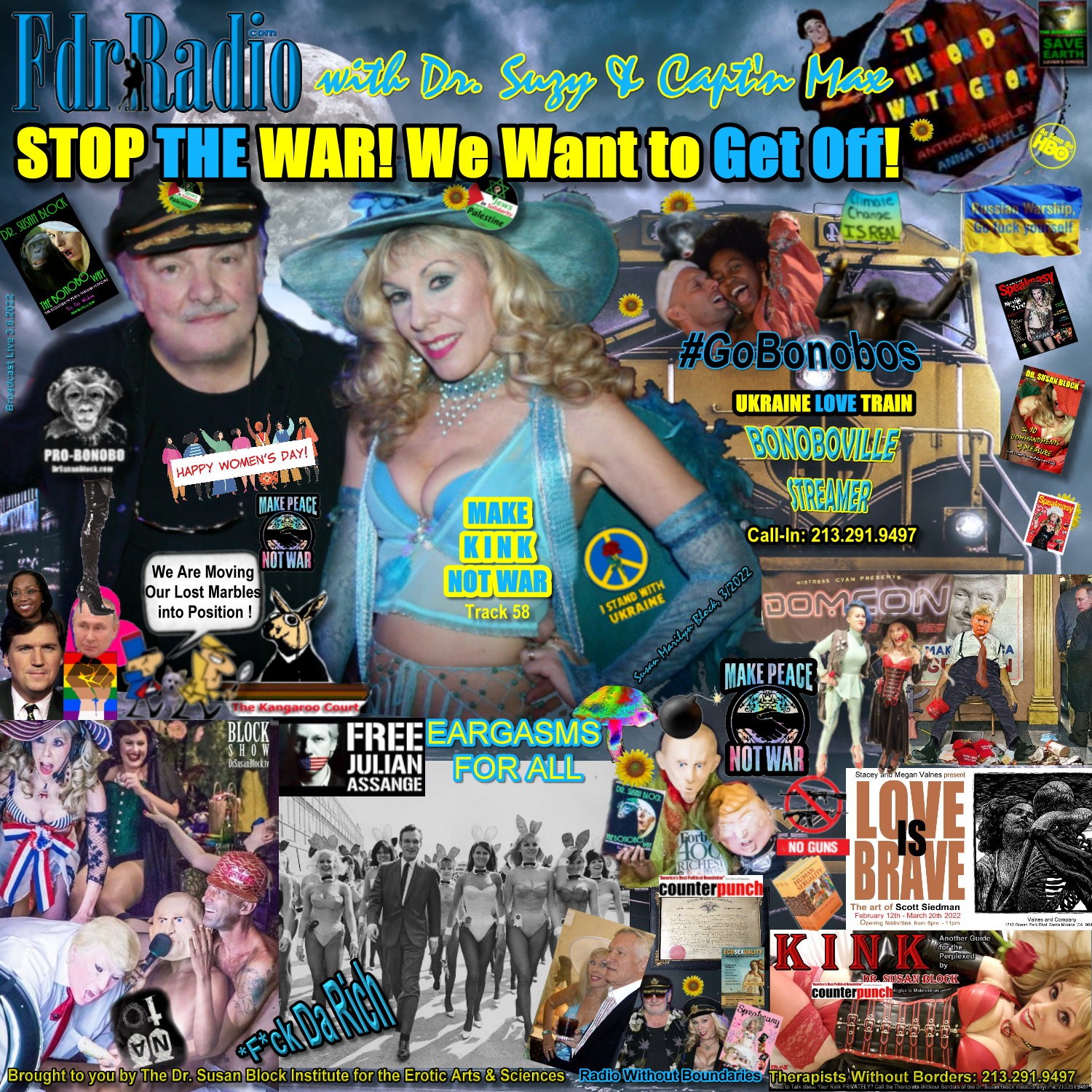 Warning: Explicit Conversations About Politics, Culture, & Sexuality
"Stop the World! I Want to Get Off" (that old Swingin' Sixties musical) told the subtly anti-capitalist tale of a man so obsessed with success, he can't fall in love.  "What kind of fool am I?" he croons. And what kinds of fools are WE - at least those of us who run this money-and-power-mad world that communicates through bombs, war and sex-negativity? Well, here on F.D.R., we say NO to war and occupation, and YES to kink and copulation! Or masturbation (we're not fussy), depending on your pleasure and opportunities. It's still a Ukraine Love Train like last week, but now that the horrific novelty of attack has turned into the depressed reality of war, we're just looking for a way out of World War III. Stop the War! We Want to Get Off (in every sense of "getting off")! Not that it's our "choice," but we do have a lot to say about it, as well as other burning topics of love, war, sex, politics and the Bonobo Way, and…
• Capt'n Max wonders just how "crazy" Putin is and if it might be a good idea to have him droned.
• I prefer incapacitation to assassination, describing my recurring dream of an irresistible Russian Domme-y Mommy who seduces the Putin Monster, ties him up—maybe fisting him (a listener idea) or Bootin' Putin (another listener idea!) to keep him compliant—then takes away the nuclear codes, and stops the war… so we can get off. 
• Since last week's Ukraine Love Train was virtually a Putin Hate Fest, this ride we more seriously consider NATO's role in the current mess.
• The Captain and I reminisce about how we fell in love through our mutual opposition to the first Gulf War, producing "Desert Susan" and embarking upon 30 years of kinky antiwar marriage.
• Happy International Women's Day! #GoBonobos for Ketanji Brown Jackson on track to becoming our first black female SCOTUS.  I want to know her measurements which, I realize, is inappropriate, but Tuck "The Cuck" Carlson wants to know her LSAT scores, which is racist, misogynist and dumb. 
• The Playboy Catfights are heating up! Former bunnies are feuding over whether they had a good or bad time at the Playboy Mansion—or maybe they had a good time that they later realized was bad—especially when interviewed by a scheming, dirt-seeking A&E "Secrets of Playboy" producer. Having spent many fun, silly nights at the Playboy Mansion, I'd find the whole Bunny Battle hilarious, if it wasn't trashing a dead man and another sign of our increasingly neopuritanical culture. 
• John Oliver's awesome piece on SEX WORK decrim. 
• Happy Birthday Rawkstar Chef Belive! And Django Unchained actress Daniele Watts responds to my KINK article, and the Make Kink Not War show they called in on with a couple of eloquent essays, plus posts an amazing photo of herself naked in a Putin mask, leaning back in Belive's arms as he holds a phallic baguette between her legs for "Trump," played by Tim Sewell, to service, on The Dr. Susan Block Show, and writes "War is the public play of those that believe public erotic play is indecent." Amen and Awomen!
• "Make Kink Not War" vs "Share Kink Not War" ?
• "Love is Brave," a new art show (Feb. 12 – March 20) presented by Stacey and Megan Valnes at 1712 Ocean Park Blvd. Santa Monica, features works by Scott Siedman, the "Kinky Michelangelo." 
• Vice TV will soon film a documentary about us because we are "icons." Want to be part of it? Call us at 626-461-5950 and ask for Max.
• DomCon 2022 is coming, and I will be presenting "Make Kink Not War: The Bonobo Way"  Be there!
• Stop the War, we want to get off—as in get out of the war, as well as come, baby, come, baby, CUM! Turn swords into plowshares and bombs into vibrators. Sounds crazy, but no crazier than these crazy warmongers. 
Read more prose and watch the show(s) we can't show you on youtube: https://drsusanblock.com/fdr-stop-war
Need to Talk PRIVATELY? Call the Therapists Without Borders of the Dr. Susan Block Institute anytime: 213.291.9497. We're here for YOU.