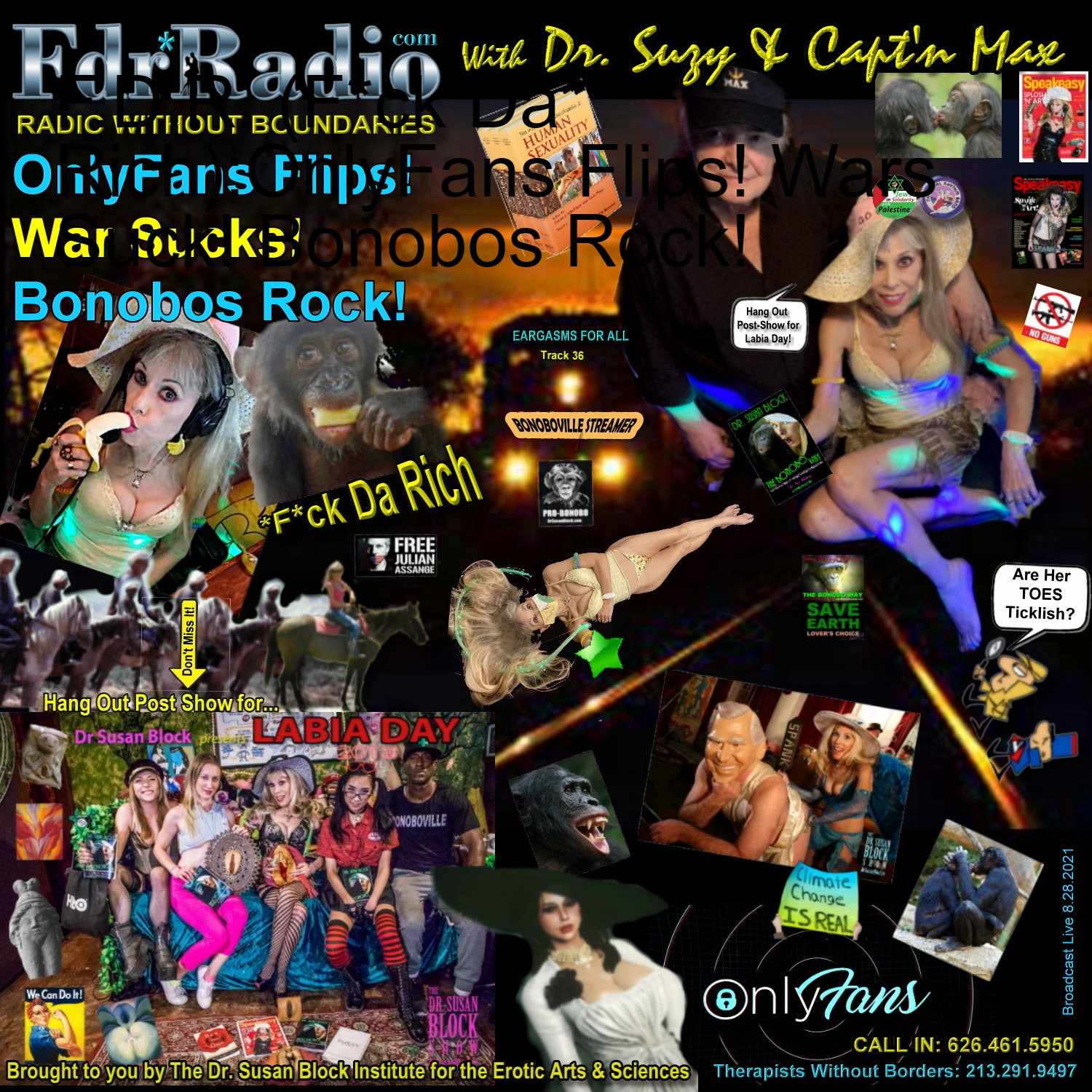 Warning: Explicit Conversations About Politics, Culture, & Sexuality
We start with the Good News: OnlyFans surrenders! It may not last, but it's a victory for sex workers. Also Good News: U.S. troops are finally leaving Afghanistan! Though ending a misbegotten Perma-War is like trying to straighten out a bad perm; it's a mess. Biden is no genius, but Dubya and the Dick are the big adult babies who made this mess. Also Carter arming the muhajideen against Soviet Russia kickstarted it 40 years ago, around the time I was in Afghanistan. So, we #GoBonobos for pulling out now, better late and messy than never and messier!
Other Questions of the Night include: Will the U.S. finally learn its lesson (the one about not invading other countries that we didn't learn in Vietnam)? Are suicide bombers the ISIS version of ammosexual incels? What about the no-vax, no-mask folks who willfully spread Covid? What's religion got to do with it? Why is censorship almost always bad for society, not to mention ineffective? Why do we need sex education? Why are some people identifying as "asexual"? What's better—flipflop politics or flipflop shoes? How can we get the billionaires to pay their fair share? Are we communists? Am I cosplaying Lady Dimitrescu Mods from Resident Evil Village? Is she cosplaying me? What is Generation Q? Is humanity going as bananas as it seems like we're going—or does the media just emphasize the crazy for clickbait? Or is the media driving us bananas? 
Don't go bananas; go bonobos! Listen and learn the Bonobo Way of peace through pleasure in all kinds of weather… and this is some crazy weather… Climate Change is real, and the Coronapocalypse is in the thick of it. We also talk about some of the wild shows and orgiastic bacchanals of Bonoboville's pre-pandemic past, including this week's amazing, orgasmic throwback, Labia Day 2018 featuring "Most Bonobo" and "Most Sapiosexual" SUZY award winner Riley Reyes and adorable Eva Yi. 
Watch Labia Day (along with other videos we can't show you on Youtube), and read more about everything here: https://drsusanblock.com/fdr-onlyfans-war-bonobos. 
Need to talk PRIVATELY about something you can't talk about anywhere else? You can talk with us… Call the Therapists Without Borders of the Dr. Susan Block Institute anytime: 213.291.9497.