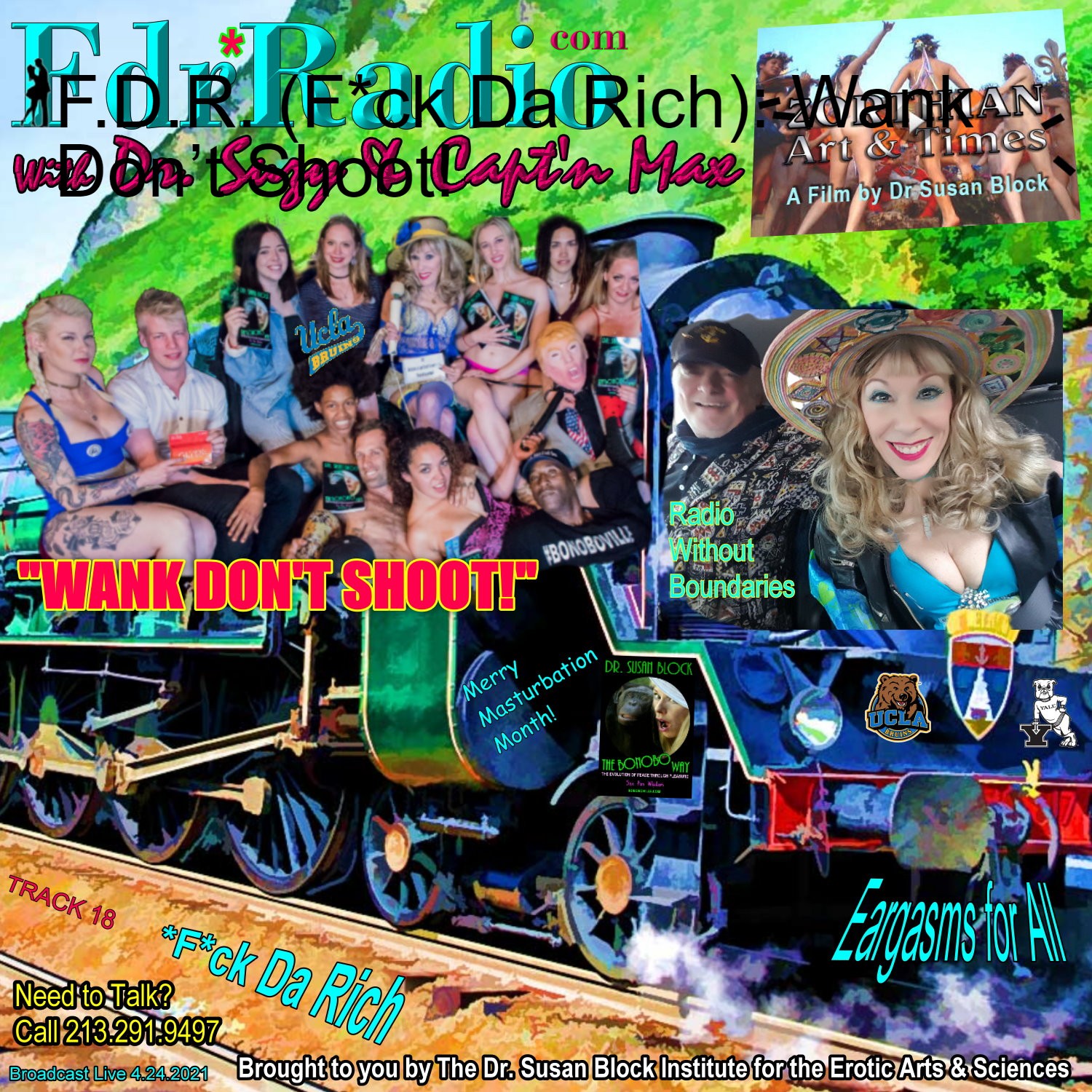 Warning: Explicit Conversations About Politics, Culture, & Sexuality
Deadly ammosexual shootings—from both police and civilians—continue to shatter America, but it's almost Masturbation Month, so just shoot the gun between your legs! Seriously, You DO You. So much safer and more fun for all!
Need inspiration? Hop aboard another bonoboësque joy ride on the Love Train as we celebrate "guilty" verdicts for that sadistic murderer with a *jealous cuck* knee. Unfortunately, Chauvin's unchecked sadism isn't rare in America's racist, ruthless policing system, where a police academy instructor can tell cadets that a "perk" of being a cop is that after killing a "bad guy," you're likely to have "the best sex" ever. As a #sexologist, I'm all for folks using quirky things as aphrodisiacs—but not killing someone!
We also talk about Montana Governor Greg Gianforte's pro-Kill bill; U.S. out of Afghanistan (Masturbation Not Occupation!); Armenian Genocide survivor and fellow Bohemian Yalie, Col. Jirayr Zorthian, and the Dance of Zorbacchus; NYC DA Cyrus Vance, Jr. (another Eli) will no longer prosecute sex workers… sort of (thanks for the tip, Veronica Monet); Caitlin Jenner's Cali Governor candidacy explodes like a "gender reveal" party bomb; more fun details in the ongoing story of the LAPD's unwarranted "raid" on the Speakeasy (in 2001) for which we won a settlement; the "Orgasmic Meditation" (OM) situation at "One Taste"; The Supremes to hear arguments about the "F" word (F*ck Censorship!); and more!
And we get ready for the Merry Masturbation Month of May 2021 with our sensational sapiosexual post-show throwback, "Collegiate Masturbation Month 2017," featuring UCLA Satyr Magazine Editor-in-Chief Sarah Crosthwaite, Satyr writers Rachael Frank and George Gutten, "Most Bonobo" Suzy Award-winning porn star Riley Reyes—who gives a special M Month Hitachi Magic Wand demo—plus Riley's GF Amelia Jones—who also happens to be a sophomore at UCLA (Go Bruins!), Suzy Award-winning "Most Bonobo Couple" Danièle Watts & Rawkstar Chef Be*Live, trump surrogate Cali Cuck (whom we spank for having the worst First 100 Days ever), Aaliyah Corsets, Ikkor the Wolf and my beautiful assistant Gypsy Bonobo. Listen to the Classical Greek Self-Pleasure Origin Story.
Watch what we can't show you here and read the Journal: https://drsusanblock.com/fdr-wank-dont-shoot
Need to talk PRIVATELY about something you can't talk about anywhere else? You can talk with us… Call the Therapists Without Borders of the Dr. Susan Block Institute anytime: 213.291.9497.
For more information, visit https://drsusanblockinstitute.com/guided-masturbation