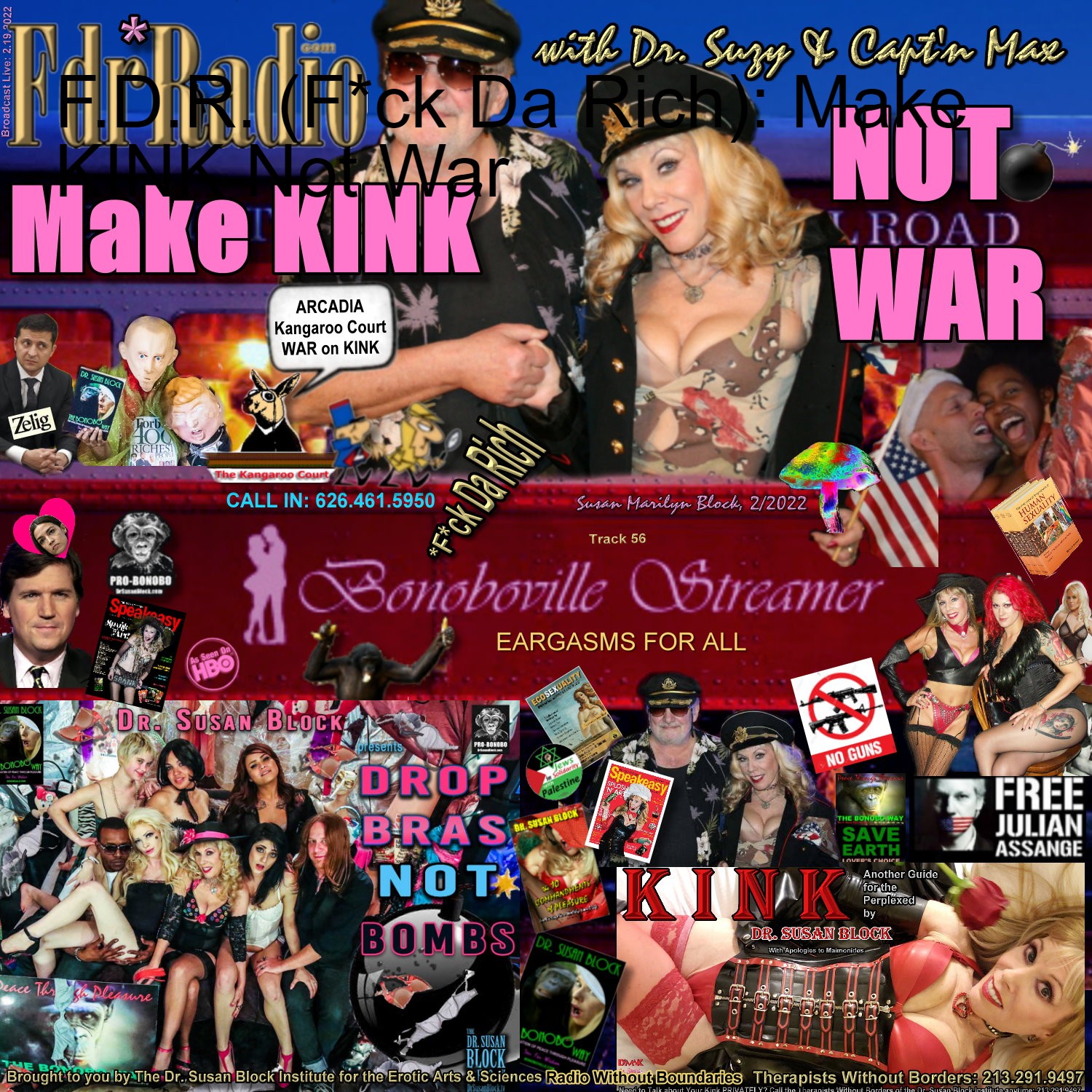 Warning: Explicit Conversations About Politics, Culture, & Sexuality
Come join Capt'n Max and me on another riveting, rollicking ride into mushroom mindscapes, emo-territories and body parts unknown through the Tunnel of Love. Though after an intensive Februa fortnight of the High Holidays of Love, Love, Love, we're ready for a little kink. 
Kink is in the air, or maybe I'm just feeling kinky, having just released "Kink: Another Guide for the Perplexed (with apologies to Maimonides)." This show features an excerpt, but you really should read the whole Kink Manifesto. 
We the People of the world really should make kink, not war.
Speaking of war, are we on the verge of a big one? A little one? Something between a military exercise and total nuclear annihilation? I don't know about you, but I'm in a state of Ukraine confusion. You'd think I'd have a feel for Ukraine since my great grandfather was from Kiev, but I doubt he had much of a feel for Ukraine either, which is why he left. Between Putin, Biden, neo-Nazis in Ukraine, neo-Romanovs in Russia and NATO, there are no heroes in this mess. As I muse about Zelensky reminding me of Woody Allen's Zelig, wondering if I can utter that taboo name without getting "canceled," several listeners proclaim their Zelig love. So much is confusing these days. Have we graduated from pandemic to endemic? Are we canceling kissing? Are we marching off to war? All I know is I am against war and for love. And this week, I'm for kink.
In that spirit, check out our exciting bacchanalian throwback  Drop Bras Not Bombs (2013) featuring the fabulous Amor Hilton (who called in to last Saturday's "Lupercalian Bonobo Valentine") and several other hot ladies dropping their bras, along with Moe the Monster dropping his drawers… and more!
We also discuss some of the "wars" at home, including war on the homeless. Max lays into LA County Sheriff Alex Villanueva, and we bring you more or less up to date on our Arcadia situation, including the new revelation of the City Inspectors' incriminating emails to each other about how to build a fraudulent "case" against Bonoboville.
Plus: Tucker Carlson's pathetic but poisonous crush on AOC; how to "talk dirty" with your girlfriend if she asks you to; the kinky fantasy of Jesus having sex with nuns; my 2022 Sexual State of the Union address; why I married a man whose mother never did the dishes; how the Earn It act sucks worse than SESTA/FOSTA; how Max's multi-colored, paisley, flower-powered shirt makes me feel like I'm on acid… and much more!
Just as we reach our station destination, "Most Bonobo-Sexy Couple" 2021 SUZY award winners, Daniele Watts and Chef BeLive, call in to gush cacaphonic but symphonic and super-psychedelic soundwaves of love—what a trip!
Read more prose and watch the show(s) they won't let us show you on Youtube: https://drsusanblock.com/fdr-kink-not-war
Need to talk PRIVATELY about something you can't talk about with anyone else? Call the Therapists Without Borders of the Dr. Susan Block Institute anytime: 213.291.9497. We're here for YOU.