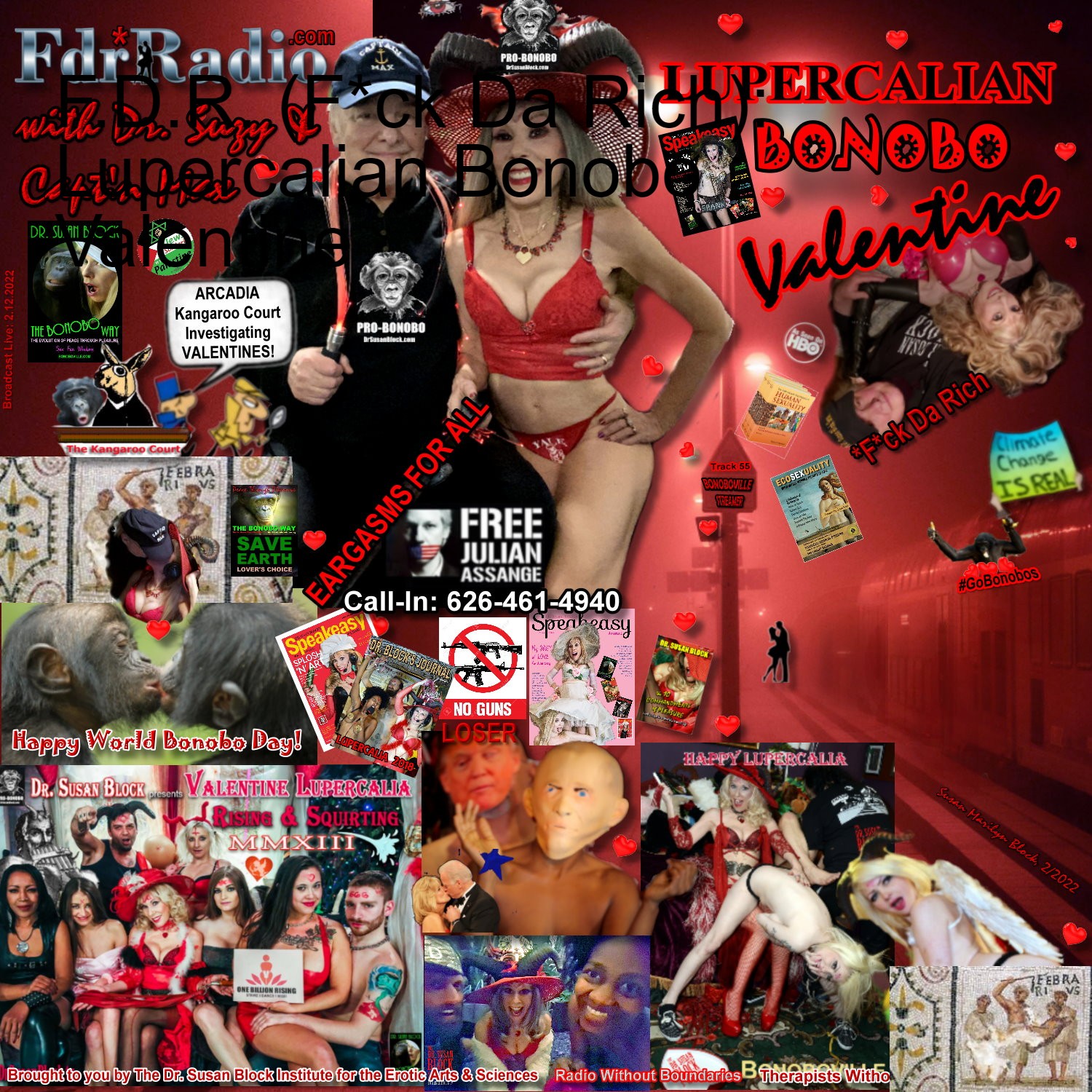 Warning: Explicit Conversations About Politics, Culture, & Sexuality
Bookending the High Holidays of Love with a little romantic V-Day sex (starting and climaxing the V-Day weekend), My Valentine and I take the Love Train between orgasms, celebrating Lupercalia, the original, pagan, februa-flogging Holiday of the Heart, and World Bonobo Day, honoring humanity's closest Great Ape cousins, the Make-Love-Not-War, female-empowered, male-nurturing, sharing, caring, peace-through-pleasure-loving bonobos.
Valentine's Day exalts romantic love between couples, which Capt'n Max ((whom I'm now calling my "V-Day Senior Sex Machine")  and I have been blessed to enjoy—even in marriage!—for over 30 years. But I've never liked the pressure, commercialism and exclusivity of V-Day, which is one of many reasons I enjoy Lupercalia and World Bonobo Day, celebrating a more inclusive love—on the kinky, consensual, pan-sensual, polyamorous Pan-Horns of Lust—in the community.
In that spirit of communal ecstasy, we are delighted to reconnect with old friends and lovers from orgiastic Lupercalias past on this ride, like SUZY award-winning "Most Bonobo-Sexy Couple" stars of the legendary Lupercal of 2018, Daniele Watts and Chef Belive (currently grappling with mistreatment by an Atlanta yoga studio!), and that "Most Adorable" Valentine Princess, Amor "Baby Block" Hilton. We hope to see them all soon in Bonoboville when Vice-TV comes to film a documentary about what "icons" we are.
We also help caller "Jack" get on the path to releasing his inner bonobo, and we review current events in our inimitable F.D.R. fashion, as well as censorship and the sexual counter-revolution, including the awful anti-Free Speech "Earn It" act, and my recent State of the Sexual Union address on Hartley Pleshaw's Lowell, Massachusetts-based "Active Radio" show on WCAP-AM.
This week's exciting throwback is "LUPERCALIA MMXIII: Rising & Squirting," celebrating love, lust, impact play, Roman history, comparative religions and the fine art of female ejaculation. That should stimulate you into a gloriously lusty celebration of whatever High Holiday of Love you prefer this year, next year or anytime you feel the spirit of Pan within you.
Read more prose and watch the show(s): https://drsusanblock.com/fdr-lupercalia
Need to talk PRIVATELY about something you can't talk about with anyone else? Call the Therapists Without Borders of the Dr. Susan Block Institute anytime: 213.291.9497. We're here for YOU.