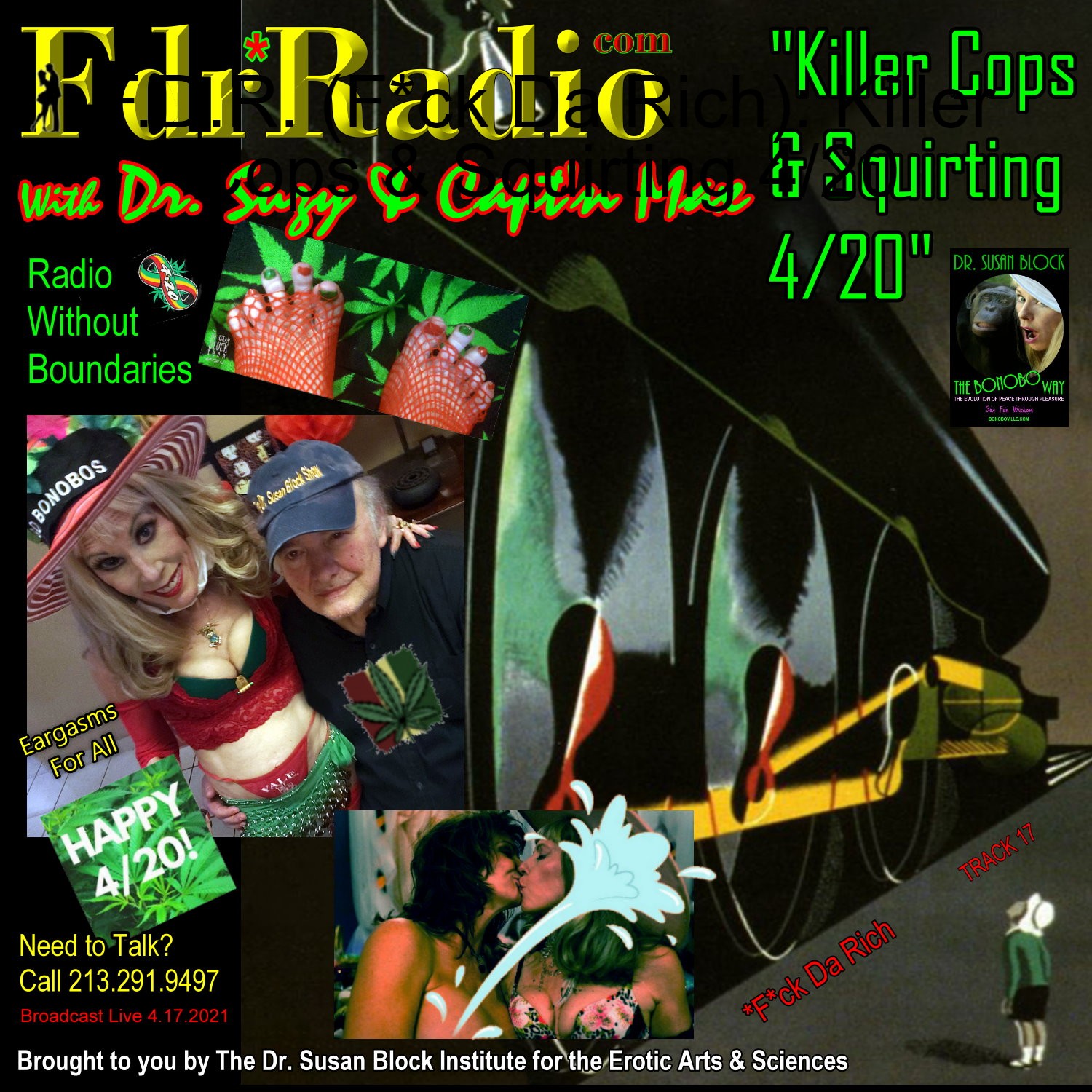 Warning: Explicit Conversations About Politics, Culture, & Sexuality
Happy 4/20 Honey! Just in time (we really need that weed)! Well, t least killer cop Derek Chauvin was convicted (woohoo!), but America is still one big 3.8 million-square-mile shooting range masquerading as a country. From cops to crazy people (with lots of crazy ammosexual cops), Americans are shooting to kill their fellow Americans… like crazy! So... ditch that madness & hop aboard the F.D.R. Love Train! No tickets required & you're free to get high. Just shoot the gun between your legs—peacefully, consensually & maybe with a nice squirt. It's The Bonobo Way of peace through pleasure, not the Ugly American Way of death through murder.
We toke as we talk about "killer cops" like cold-blooded Chauvin and Kim Potter ("Karen" with a badge), taking your illuminating "police story" calls & comments. We also tell the touching tale of the "Church-Based Cuckoldry Gone Wrong" Pastor's daughter bravely "breaking the cycle" of violence and hypocrisy, reaching out to us with great courage and generosity of spirit.
Things can get crazy, but sometimes you can wash *it* all away with a nice "Spring Shower," the name of our post-F.D.R. #DrSuzy-Tv show featuring that first multi-squirting 2011 appearance of Texas MILF & Female Ejaculation Queen Deauxma, whose Holy Water literally hits the ceiling (and I mean the 18-foot rafters of our Downtown Speakeasy)! I also describe how I recently helped another famous porn star to squirt for the first time through erotic hypnosis, and how maybe you (or your partner) can squirt too!
And we celebrate 4/20 Honey (don't we always), so light up as you listen in. Boom Shiva Shambalai Boom! Decriminalizing the sacred weed is something else (besides the Chauvin verdict) America can be proud of.
Want more? Read the journal and watch that wild Spring Showers show we can't show on Youtube: https://drsusanblock.com/fdr-cops-squirt-420
Need to talk PRIVATELY about something you can't talk about anywhere else? You can talk with us… Call the Therapists Without Borders of the Dr. Susan Block Institute anytime: 213.291.9497.
For more information, visit https://drsusanblockinstitute.com/squirting-world