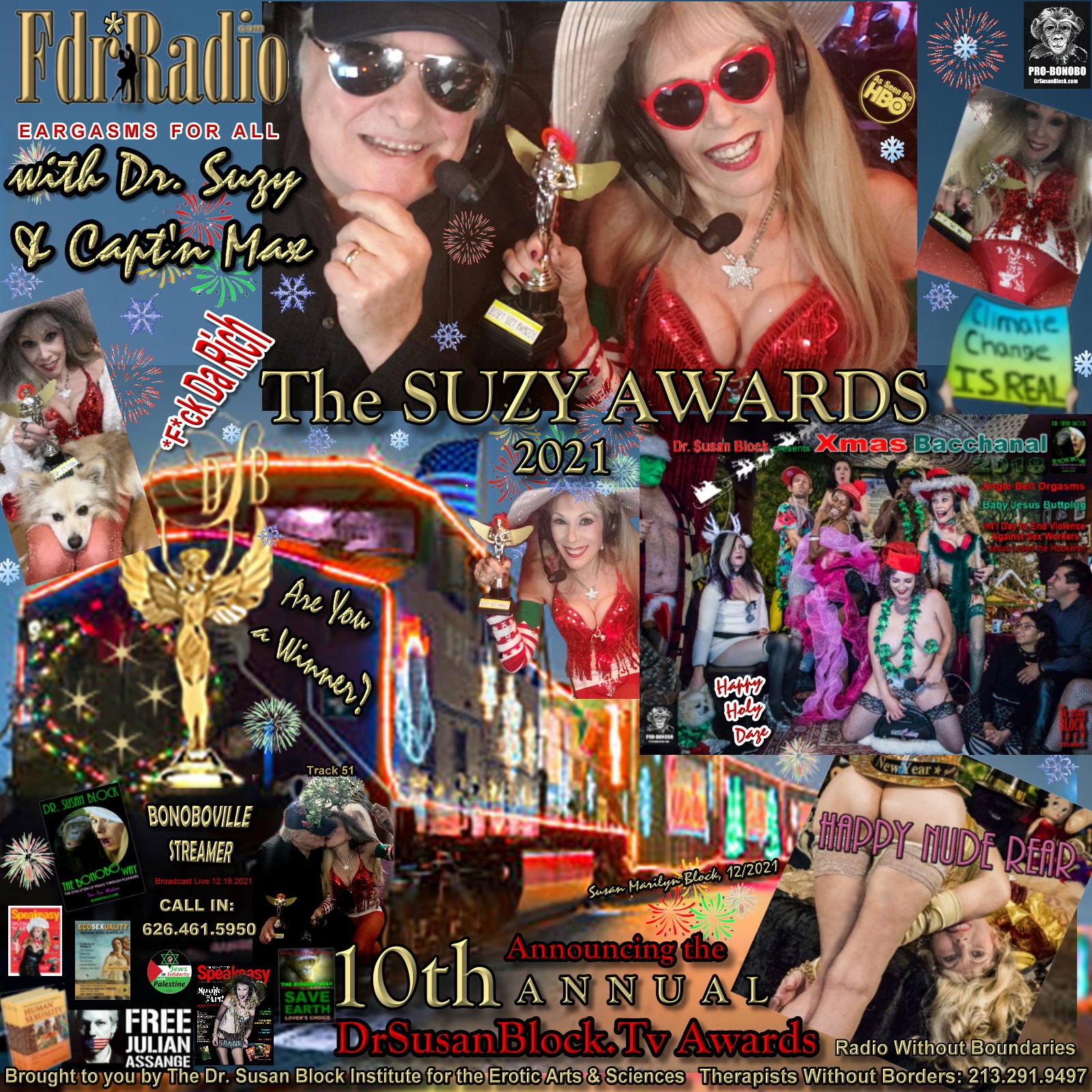 Warning: Explicit Conversations About Politics, Culture, & Sexuality
Drum roll, please… It's the SUZY awards! 
Are YOU a winner? Maybe you won a Boobie Prize…
Check out the Winners' and Losers' List and watch this amazing show (plus more we can't show you on Youtube) uncensored and free: https://drsusanblock.com/awards2021 
Honoring excellence in broadcast artistry and exhibitionism for the 10th consecutive year, the DrSusanBlock.tv Awards, a.k.a., The SUZYS, recognize erotic performance, sexual intelligence and Weapons of Mass Seduction, celebrating The Bonobo Way of female empowerment, male well-being, sharing resources, ecosexuality and peace through pleasure in all kinds of weather, while paying tribute, with love, humor and deep respect, to those who work and play in the fields of sexuality, equality and world peace. There's never been a more urgent time to honor Peace over War, Community over Capitalism, Sex-Positivity over Puritanism and "Lust Over Greed" than right now. 
Well before the Oscars, XBIZ, the AVNs, the TEAs, the Grammys, the Tonys, the Emmys and the Golden Globes trot out their awards, our last podcast of 2021 is here to acknowledge what we loved and loathed in that crazy year on "The Greatest Sexuality Show on Earth."  Honoring the winners of such diverse categories as "Most Bonobo Humanitarian," "Best Sex Education," "Hottest Interracial Orgy Lifestyle" and "Most Caring Domme," and presenting a bevy of Boobie prizes like "Miss Ammosexual," "Worst Cuckold," "Miss QAnonsensical" and "Nastiest Billionaire," the SUZYs are certainly the Most Interesting Awards on Earth.
Our goal, as always (besides having a cum-ton of fun), is to 1) advance the cause of sex education, health and research, 2) inspire better erotic art and porn with a more sex-positive, ecosexual and sapiosexually stimulating aesthetic, 3) support sex workers and political activists fighting for peace, equality and sexual freedom, and 4) to save the real bonobos from extinction while 5) supporting a more bonoboëque ethos in the world. #GoBonobos for the fabulous SUZY Award winners of 2021, and for real bonobos. Save the bonobos and they will help us save ourselves.
Need to talk PRIVATELY about something you can't talk about with anyone else? Call the Therapists Without Borders of the Dr Susan Block Institute anytime: 213.291.9497. We're here for YOU all through 2022…