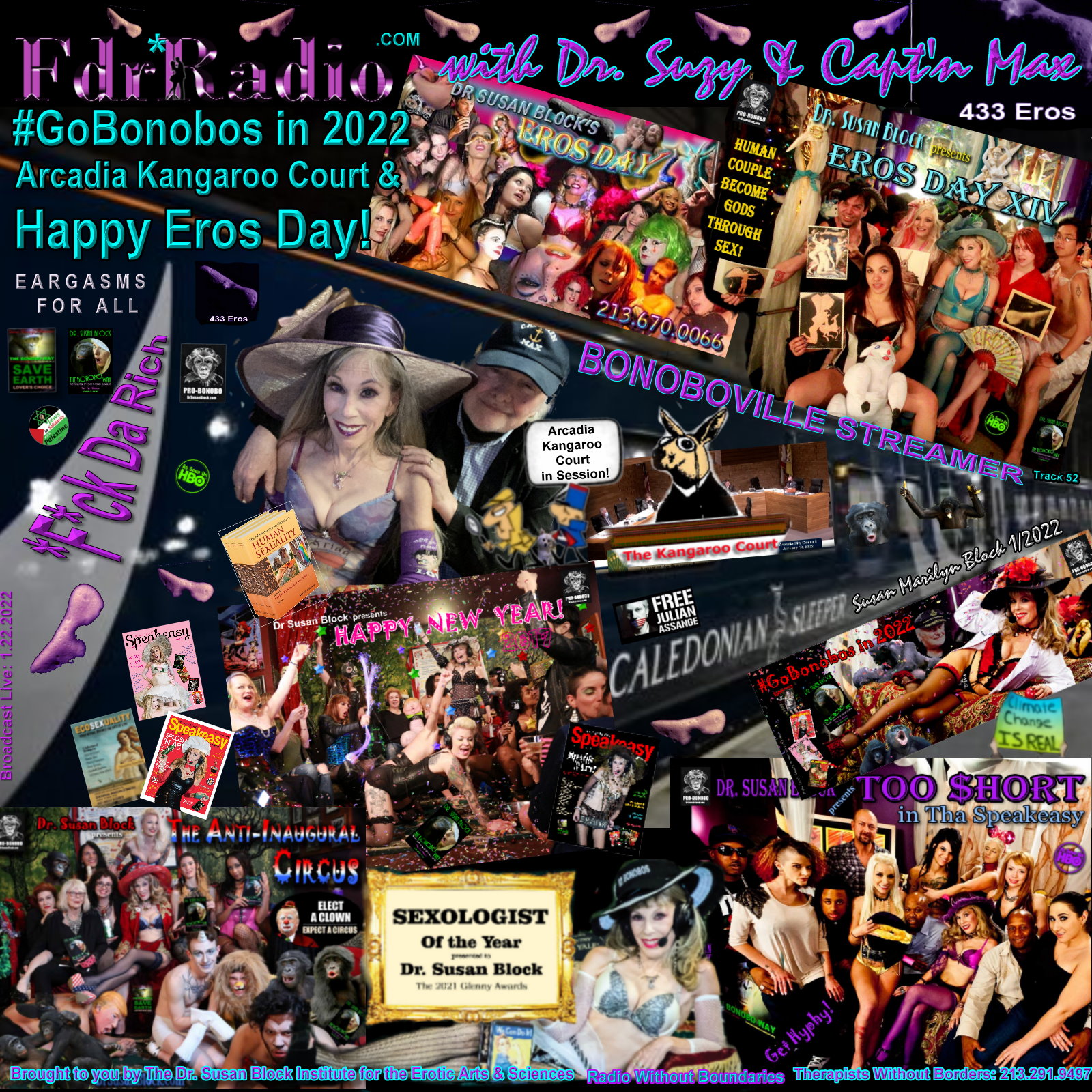 Warning: Explicit Conversations About Politics, Culture, & Sexuality
It's our first live broadcast of the year from the Soul of Downtown Arcadia. It's also from the sole, since I make a few high heel, boot, stocking and foot fetishists happy. It's also from the heart, as I kick off this spin around the sun with my heartfelt New Year's resolution, my sexy-lefty Bonobo Manifesto, #GoBonobos in 2022. Well, part of it... Between the foot lovers, pop-up questions about female ejaculation and so-called "addiction" to vibrators, Trumpty Dumpty's Golden Storm, the return of Vice, my new "Sexologist of the Year"  award (thanks Glennys!), the story of Eros Day and the Arcadia City Council's Kangaroo Court… Capt'n Max and I have a LOT to juggle on our first night train into 2022. We also look back on four amazing bacchanalian DrSuzy.Tv throwbacks, "NYE in Bonoboville," the "Anti-Inaugural Circus," "Too $hort in tha $peakeasy" and "Eros Day XIV: Human Couple Become Gods Through Sex." We tell a bit of the Story of Eros, aka Cupid, the ancient Greek God of Lust, the Planetoid Eros 433 as well as Eros Man, Lasse Braun, Axel Braun and the Magic of Eros, including the Lust God's intense and controversial romance with his immortal Mother, Aphrodite aka Venus, Goddess of Love, Sex and Beauty. Hey, Oedipus wasn't the only Mama's Boy; those Greeks practically invented Mommy fantasies. Celebrate Eros Day the Bonobo Way! 
This being our first live broadcast after our recent mistreatment at the neo-Puritanical hands of the Arcadia City Council, we rant about their absurd and hypocritical Kangaroo Court of Mattress Madness.
Yes indeed, Brothers and Sisters, Lovers and Sinners, we take some serious hairpin turns this ride; but also, as always, we have lots of fun on the Love Train! Fun fuels the Revolution. 
Read more prose and watch the shows (that are too kinky for Youtube): https://drsusanblock.com/go-bonobos-eros-day
Need to talk PRIVATELY about something you can't talk about with anyone else? Call the Therapists Without Borders of the Dr Susan Block Institute anytime: 213.291.9497. We're here for YOU all through 2022…