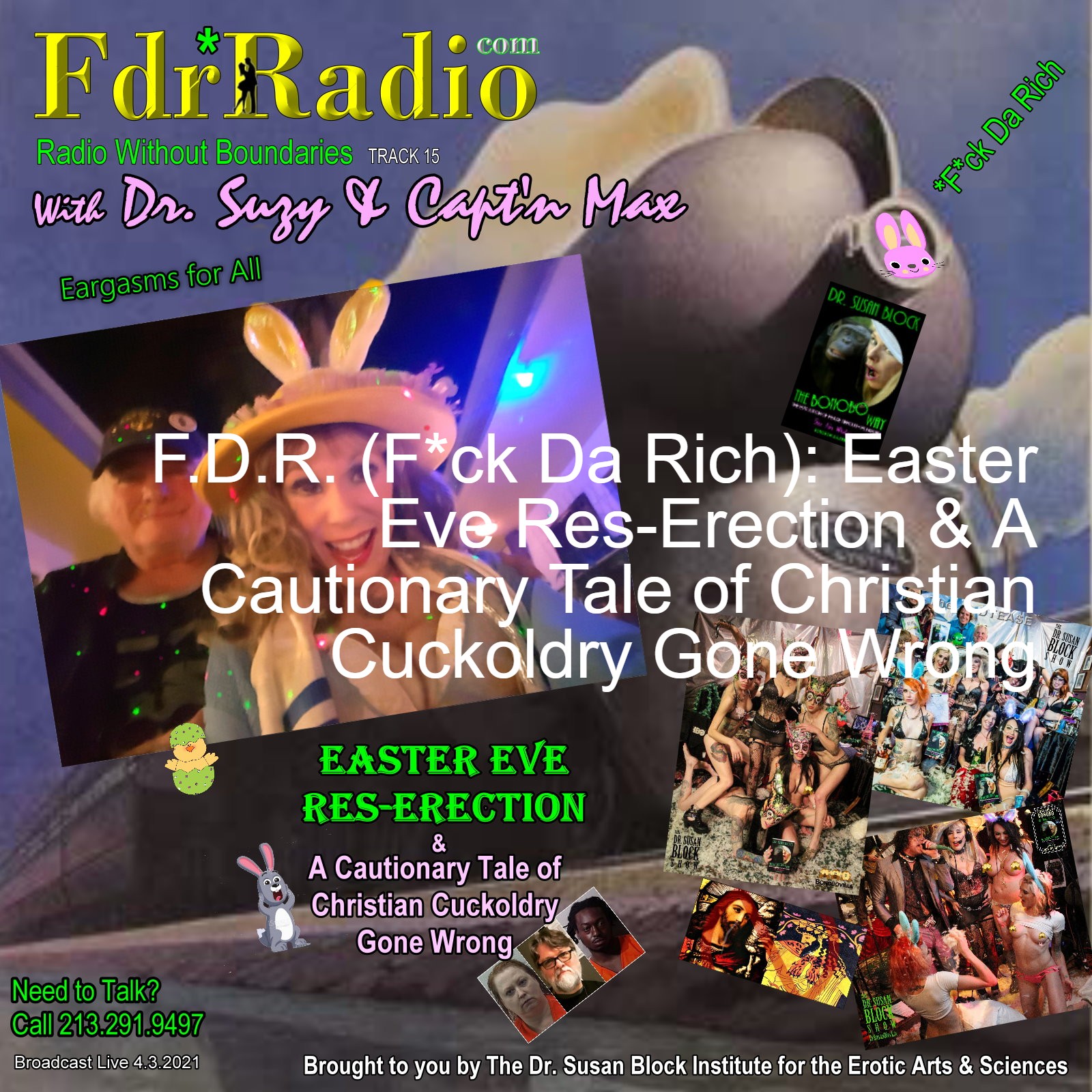 Warning: Explicit Conversations About Politics, Culture, & Sexuality
It's Easter Eve as our Love Train leaves the station, so we crack open an Easter egg of revelations regarding "The Resurrection" of Jesus, Persephone, Osiris, Dionysus/Bacchus, Spring and you. Yes, YOU. Want to resurrect your erection—or just your general lust for life… and the afterlife? Listen
Springing from the glories of Gospel heaven to the depths of Christian hell, we tell the cautionary tale of Oklahoma Pastor David Evans' cuckold "love triangle" that started in a Super 8 Motel and ended in a murder with the victim's own gun. If you're interested in cuckolding, listen up and learn what NOT to do! As this tragic killing, the Massage Parlor Massacre and so many others demonstrate, we need gun control—for police as well as civilians. Nevertheless, a murder weapon can be just a knee on the neck of a handcuffed prisoner struggling to breathe, as evidenced by the sadistic policing that took George Floyd's life, now on display in the harrowing trial of Derek Chauvin. For comic relief, we have Gaetz-Gate, wherein Far-Right Buffoon Matt Gaetz tries to drag fellow Far-Right Buffoon Tucker Carlson into his own sleazy circus of sex scandal. We love to see one of Drumpf's favorite and most obnoxious punks take a pratfall for any reason, though we're not judging his sexual behavior until more facts emerge. When a Cuomosexual listener wants us to weigh in on the New York Governor's scandals, all we can say is he must be thanking Jesus this Easter for the heavenly distraction of Gaetz-gate.
In light of the most recent "gender reveal" tragedy, Capt'n Max, Unscene Abe, Mariah and I deplore the multi-tiered stupidities of gender reveal parties, from jinxing your future child's sexuality to setting your neighborhood on fire. We then take a slight detour into movie-reviewing two new "buddy films," one being our friend and "Funniest Fundamentalist Refugee" Suzy Award winner Luzer Twersky's star turn in the soon-to-be-released "No Name Restaurant" (about an Orthodox Jew and Bedouin's unlikely friendship forged in the desert), and the other being Eric Andre's Candid-Camera-ish "Bad Trip" (the Chinese finger trap scene reminds me of male bonobos resolving conflict through "penis fencing"). How are "buddy films" like these, focused on male-male bonding as opposed to male-female relationships, connected with Jesus and all those male-bonding Apostles? Was/Is Jesus bi? Aren't we all… at least somewhat?
It's just sexo-theological speculation; all I know for sure is that I love my Jesus Jackhammer dildo, one of the stars of our post-show bacchanal, "Easter Eve DTEASE Res-Erection on DrSuzy.Tv," which also features Unlicensed Professionals Cat Imperio (the "Anal Artist") and Samantha Fairley, Dayton Rains, sexy trans pornstar Chelsea Marie and amazing glam-punk sex-rock band The DTease (don't miss it)! We also gear up for next week's 29th wedding anniversary ride on the Love Train and, speaking of railroad romance, we're excited for Biden's plan to pump billions into public transportation infrastructure—including trains. Woo hoo and choo-choo! Yo Joe, we know you've got an Amtrak fetish, but how about throwing a bit of those billions to the F.D.R. Love Train?
Want more? Can't get enough of that Easter Eve stuff? Want to watch the Bacchanalian videos we can't show on Youtube? Crave more deets on the Christian Cuckold Murder? Read: Read more and watch the hot videos: https://drsusanblock.com/fdr-easter-cuckold
Need to talk PRIVATELY about Cuckolding, Religious Sexual Abuse or something you can't talk about anywhere else? You can talk with us… Call the Therapists Without Borders of the Dr. Susan Block Institute anytime: 213.291.9497.
For more information, visit https://drsusanblockinstitute.com/cuckold or https://drsusanblockinstitute.com/phone-sex-therapy