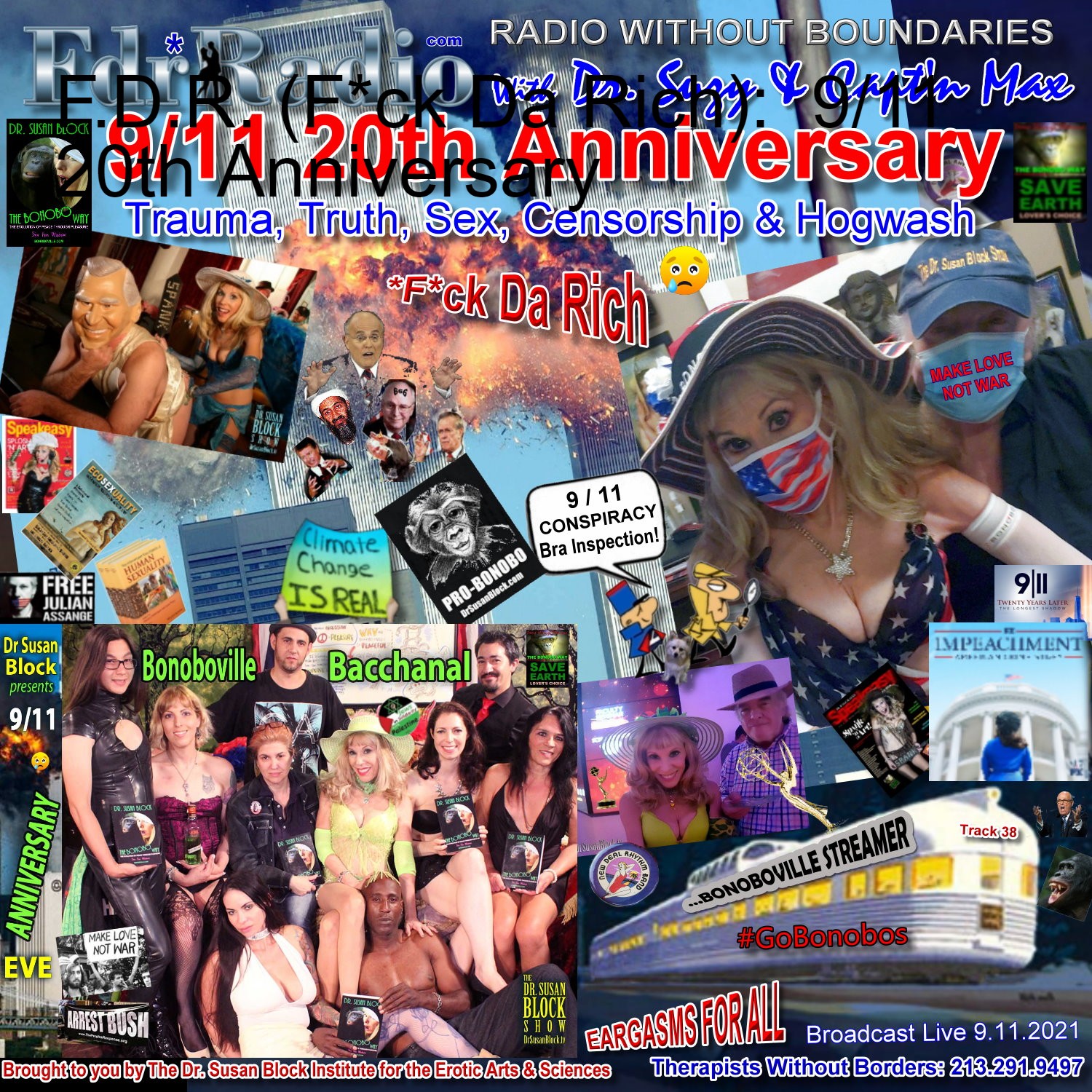 Warning: Explicit Conversations About Politics, Culture, & Sexuality
9/11: A date almost everyone knows, yet it's still shrouded in mystery, like it was a dream, a myth or a movie. It sure looked like a movie, something no one had ever seen before... and hasn't since. The appalling spectacle of passenger planes flying into the World Trade Centers crumbling to dust live and on repeat—one fiery, phantasmagorical special effect after another—from every different angle, felt totally surreal.
Unfortunately, it was real.
It was also very deadly. At least 2997 human beings lost their lives that dreadful day, and thousands more were poisoned by the fumes. And it was traumatic. Certainly, the harrowing experience is seared into the psyches of the actual survivors who somehow escaped the Nightmare on Fulton Street. But you didn't have to have been there to be traumatized. Millions of us were shocked senseless, and we still exhibit symptoms of 9/11 PTSD: chronic fear, anxiety, despair, delusion, confusion, anger and terror, and even a kind of sexual trauma, a peculiar feeling of impotency, pain and rage from having witnessed America's biggest phallic buildings—Dick 1 & Dick 2—virtually castrated by box-cutters and blowback.
Have we healed from the wounds of 9/11? Not really; how can we? Though it was the Crime of the Century, 9/11 is one of America's greatest (mostly) unsolved mysteries, partly because "Da Rich" cover their crimes. So, on this special, almost sacred 20th anniversary, when most mainstream media is just feeding us the usual hogwash, F.D.R. explores the truth of 9/11, such that we know. We're not "Truthers" - it wasn't an "inside job," though it turned into a con job... And we have questions: Why did it happen? Why was the Bush administration so ill-prepared (despite warnings), and yet so ready to wage wars in response to 9/11 against peoples that had nothing to do with 9/11? With 15 out of 19 hijackers Saudi, plus Osama bin Laden (plus more), why is the Kingdom of Saudi Arabia one of the only Middle Eastern countries America hasn't attacked? Why haven't we solved or tried the terrible crime of 9/11 instead of just waging perma-wars with drones and bombs? Bombing never helps anyone but the bomb-makers. 
Unfortunately, the bomb-makers are in charge… 
We are asking obvious questions, and yet they are so taboo that Reddit censored this show, shutting it down twice as we broadcast live. But we have other platforms and we will not be intimidated, so the F.D.R. Love Train rolls on down the tracks of truth.
We also talk about the generally lousy effect that 9/11 (especially coming right after the Clinton Impeachment) had on good consenting adult sexuality. Sex took a beating, while beating became "sexy," and torture in Abu Ghraib and Guantanamo went off the charts. On the one hand, our APA-sanctioned "enhanced interrogations" destroyed innocent people, and on the other, now we can't even try the self-confessed 9/11 mastermind, Khalid Sheikh Mohammed, because we tortured him too much for his confessions to be admissible.
Of course, 9/11-inspired sex doesn't HAVE to be bad... for instance, when I fly through the air and make Max's tower explode. Wheeeee! 
Put on your headphones to listen to the show and celebrate Self-Love September! Make Self-Love (or any kind of love), Not War. It's the Bonobo Way. 
And don't miss our fabulous star-studded throwback, 9/11 Anniversary Eve Bonoboville Bacchanal, from exactly five years ago (when we also went to the Emmys which we missed this year due to Covid-fears), on the 15th anniversary of the greatest American Crime Story never (fully) told.
Watch all the exciting stuff we can't show you on Youtube, and read more about everything here: https://drsusanblock.com/fdr-911
Need to talk PRIVATELY about something you can't talk about anywhere else? You can talk with us… Call the Therapists Without Borders of the Dr. Susan Block Institute anytime: 213.291.9497.