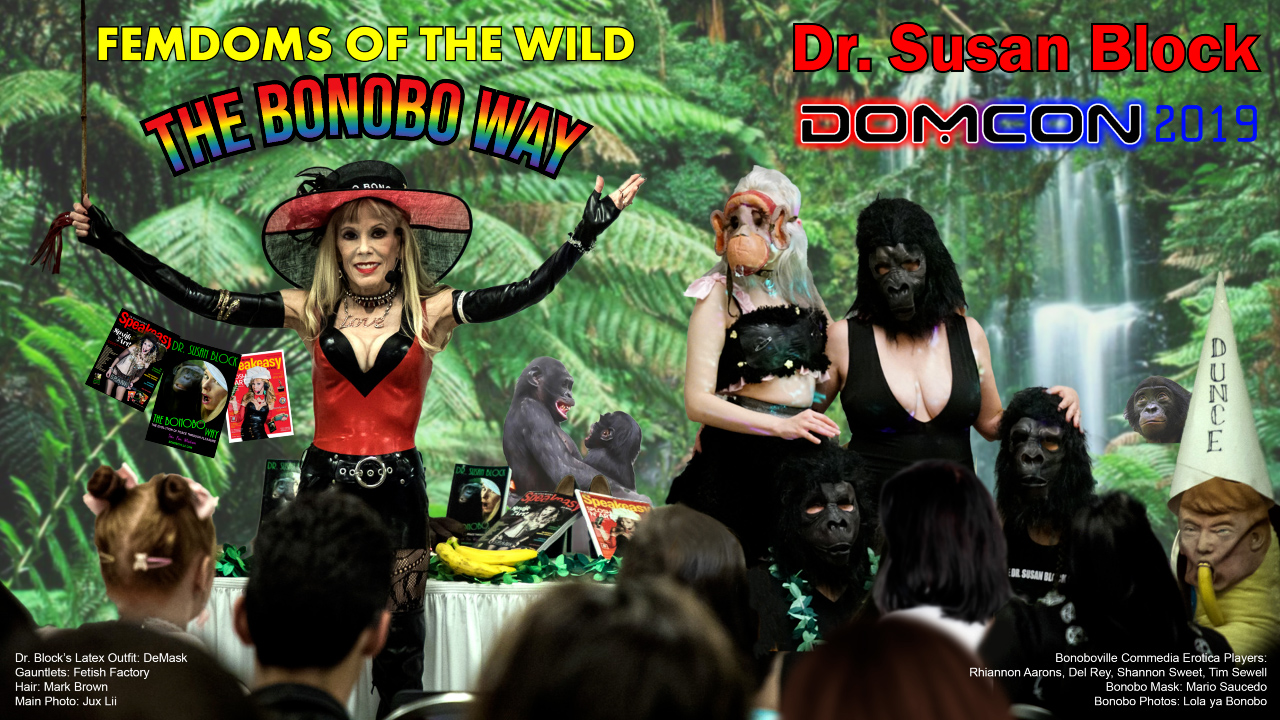 Warning: Explicit Conversations About Politics, Culture, & Sexuality
My favorite venue to deliver the FemDom paradigm of the Bonobo Way is DomCon LA, where kinksters of all kinds appreciate learning about the kinkiest apes on Earth, as well as how we humans can "go bonobos" for female empowerment, male well-being and peace through pleasure.. My DomCon LA 2019 presentation features the fabulous Bonoboville Commedia Erotica Players: Rhiannon Aarons, Shannon Sweet, Del Rey Bonobo and Tim Sewell, plus the amazing bonobos themselves in footage from the wild, Lola ya Bonobo and the San Diego Zoo. Also making notable quickie appearances: Mistress Cyan, Madame Margherite, Goddess Phoenix, Goddess Soma Snakeoil, Mistress Tara Indiana & Dominatrixes Against Donald Trump (D.A.D.), Alice in Bondageland, Mistress Isabelle Sinclair, Simone Justice, Mistress Porcelain, Mistress Ellen, Danièle Watts, Rawkstar Chef Be*Live, Goddess Sydney, Mistress Damazonia, Dr. Christopher Ryan, Dr. Robert Sapolsky, Dr. Isabel Behncke, Goddess Phoenix Steele, Sally Mullins, Charlotte Stokely, Shannon Coronado, Chynna Doll, Mistress Mia Darque, Lady Remedy Ann, Erikka Rijks, Wry Mantione, the Baroness and the late great George Carlin. My latex outfit: Demask. Gauntlets: Fetish Factory. Finger-flogger: Jux Lii. Bonobo Mask: Mario Saucedo. Trump Pee Pad: Jeffrey Vallance. Leis: Agwa de Bolivia Herbal Coca Leaf Liqueur.
Sign Up for DomCon 2020 Virtual: http://domcon.com
Read The Bonobo Way: http://amzn.to/1zimlbP.
Help Save the Highly Endangered Bonobos: http://blockbonobofoundation.org
More DomCon 2019: https://drsusanblock.com/domcon-2019
For Bonobo Liberation Therapy, go to http://drsusanblockinstitute.com/bonobo-liberation-therapy
or call My Therapists Without Borders of the Dr. Susan Block Institute anytime at 213.291.9497.