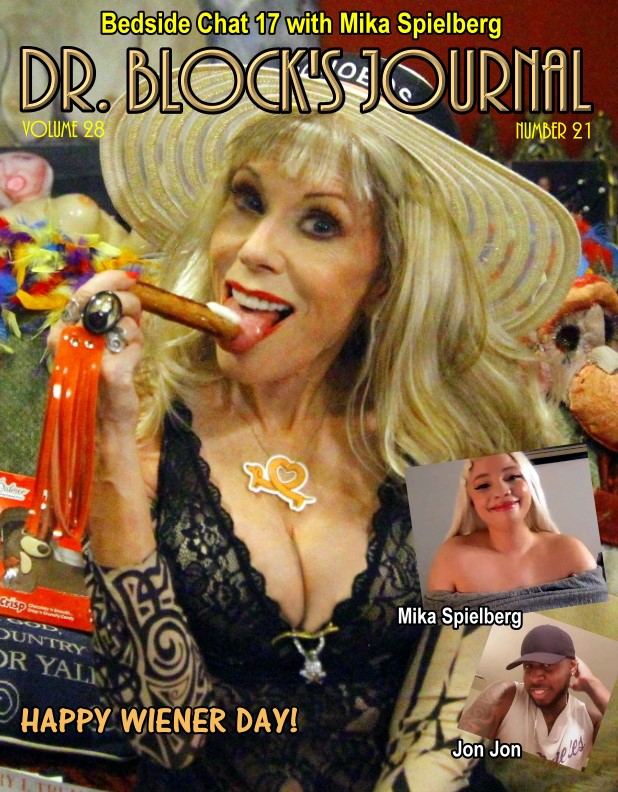 Warning: Explicit Conversations About Politics, Culture, & Sexuality
It's a Wiener Festival in Bonoboville—hot dogs, dachshunds and ding-dongs, oh my!—followed by an intimate interview with Mika Spielberg—bright, beautiful erotic performer and daughter of iconic director Steven Spielberg—and we finish up with a chat with one of the biggest wieners in the industry, AVN-winning cocksman Jon Jon.
My chat with Mika, aka Mikaela Spielberg, aka "Anxious Chonk Elf" (Twitter), explores her erotic art, her recent foray into the adult industry, America's "300-year history of sex panic around the bodies of Black women," how Spielberg fans treat her personal career choice, playing computer games with Steven, loving Indiana Jones & the Last Crusade and the blessings and challenges of growing up in the amazing Spielberg family under the hot lights of Hollywood.
Then we celebrate Wiener Day with Jon Jon who offers tips to guys who want to show off, monetize their wieners and break into porn.
We also discuss our incarcerated old friend Ron Jeremy and tRump's Gestapo-like stormtroopers storming Portland, for which I book-spank our Drumpf effigy with niece Mary Trump's hot new book, "Too Much and Never Enough: How My Family Created the World's Most Dangerous Man."
Of course, we can't show human wieners on Youtube, but you can see the whole uncensored show and read the sapiosexual show blog: https://drsusanblock .com/mika-spielberg-wiener-day
Need to talk PRIVATELY about YOUR wiener, other wieners, your relationship with your father or mother, erotica, Post-Trump Sex Disorder or anything else you can't talk about with anyone else? You can talk with me or one of our other Therapists Without Borders at the Dr. Susan Block Institute anytime. Call 213-291-9497. We're here for you.