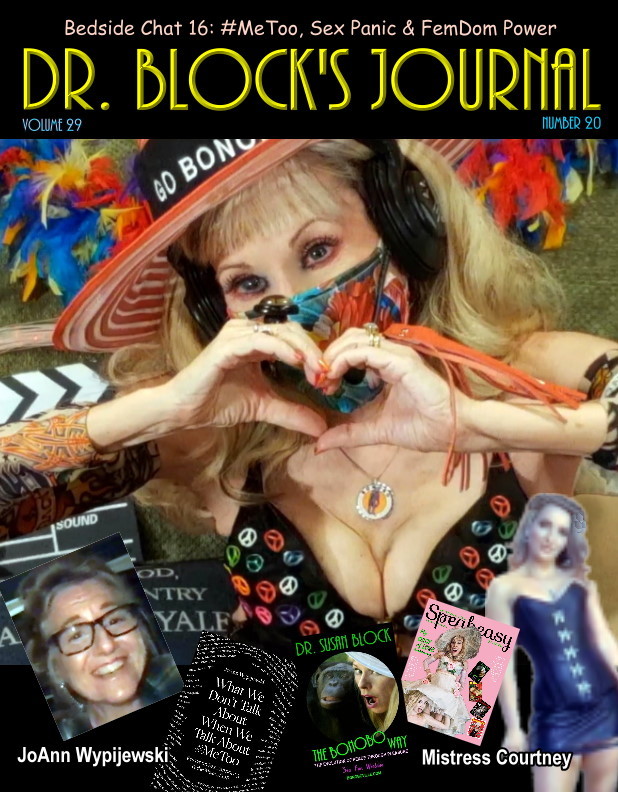 Warning: Explicit Conversations About Politics, Culture, & Sexuality
Brilliant progressive journalist JoAnn Wypijewski and beautiful British FemDom Mistress Courtney join me for my Sweet 16th Bedside Chat of the Coronapocalypse, sharing great insight, passion, erotic exploration and sexual revelation. JoAnn's remarkable new book, What We Don't Talk About When We Talk About
#MeToo
: Essays on Sex, Authority and the Mess of Life, is the springboard for a very stimulating discussion of the
#MeToo
Reckoning, sex scandal, "sex panic," Satanic panic, "poisoned solidarity" in social media, the Harvey Weinstein trial, Woody Allen, Ron Jeremy, a trip through time back to the horrors of Abu Ghraib and more. Then the stunning, stylish and pleasingly sadistic Mistress Courtney zooms in from her luxurious London dungeon to deliver some wicked whipping, sensuous foot teasing, "human furniture" play and FemDom philosophy that could teach
#MeToo
a thing or two about how to put naughty men in their "proper" place. We also talk about tRump's nepotistic pardon of his jackboot-licking pal, Roger Stone—a vivid embarrassment to decent swingers, cuckolds and hat lovers everywhere—and we really should free Chelsea Manning, Julian Assange and many others unjustly languishing in the long-term chokehold of the Prison Industrial Complex, plus last week's momentous, progressive Supreme Court rulings, and the Bonobo Way of Female Empowerment, Male Well-Being and Peace through Pleasure.
#GoBonobos
for Love! My Bedside Chats of the Coronapocalypse are inspired by FDR's Fireside Chats. Unfortunately, we have to censor the "sexy parts" of these shows for YouTube, but you can see it all uncensored and free and read the sapiosexual show journal here: https:// drsusanblock .com/ bedsidechat-16. Need to talk PRIVATELY about
#MeToo
, sexual trauma, sex panic, YOUR panic, kink, cuckolding, swinging, BDSM, whipping, domination, Harvey, Ron, the Bonobo Way, Coronapocalypse psychosis or anything else you can't talk about with anyone else? You can talk with me or one of our other Therapists Without Borders at the Dr. Susan Block Institute anytime. Call 213-291-9497. We're here for you.