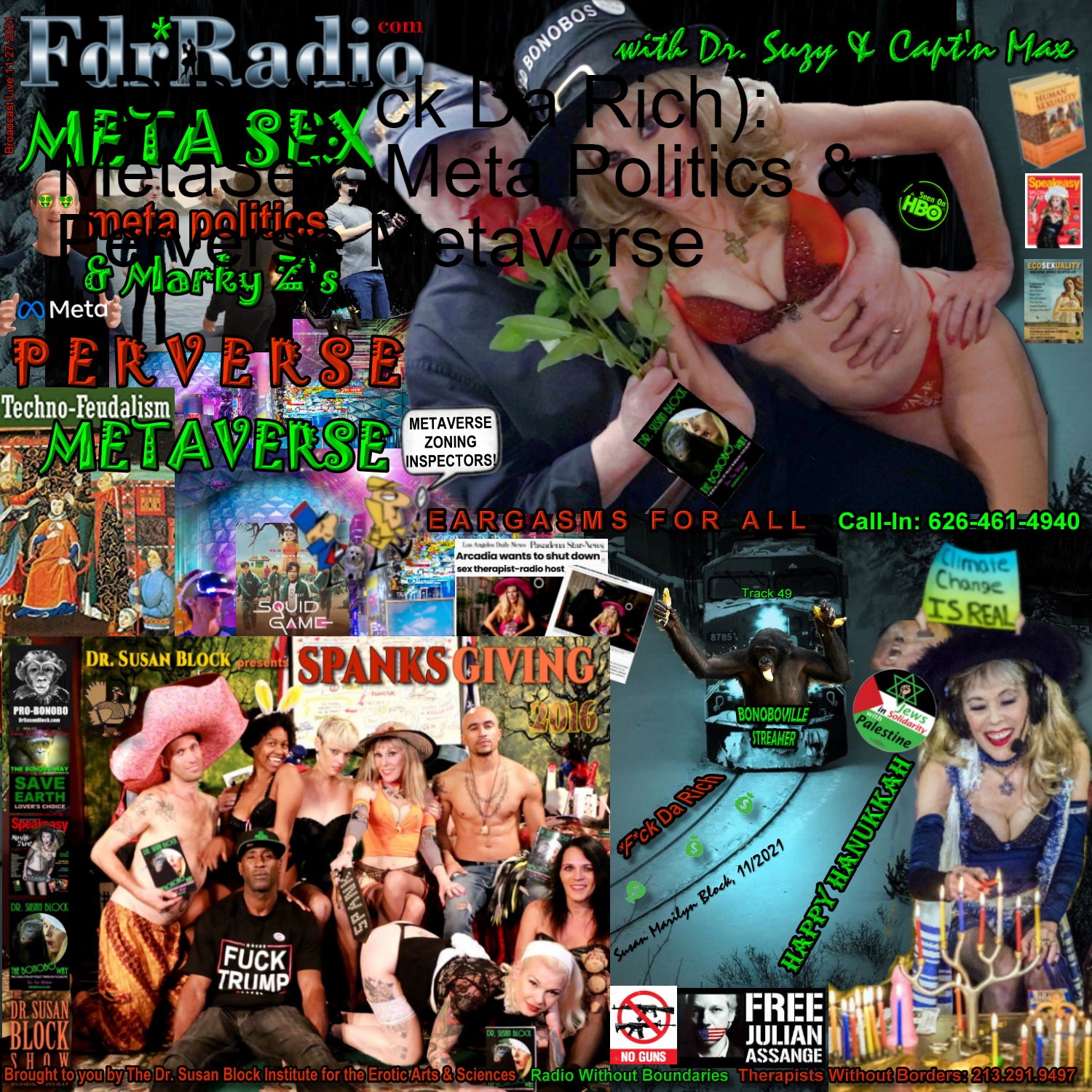 Warning: Explicit Conversations About Politics, Culture, & Sexuality
It's the last Love Train of Naughty November 2021 out of the Bonoboville Station, and we are riding through Techno-Feudal Lord Zuckerberg's fright-filled META-Manor!
If Zuck and a handful of other billionaires are techno-feudal lords of the Perverse Metaverse, what are we? Serfs forced to Surf Capitalogenic Fake Worlds? What about Meta-Sex? Meta-Politics? Meta-Malarkey?
Then we're onto a stimulating, sapiosexual exploration of interracial group sex in Pilgrim times and now; justice for Ahmaud Arbery (yay!); Killer Kyle doing the Tucker/tRump Ammosexual Media Circuit shuffle while Killer-Exposing Julian Assange remains imprisoned (boo!); Omicron around the bend; RIP Stephen Sondheim and Capt'n Max's friend Milva; Italian-accented senior romance; Thomas Morton the Orgiastic Anti-Pilgrim; continuing Mattress Madness from the Arcadia Zoning Politburo; the piquant pleasures of audio erotica; Abby Martin trying to confront Nancy Pelosi about the U.S. Military's part in Climate Catastrophes; why The Bonobo Way is the best way; an early Happy Hanukkah to those who celebrate; a crash course in "How to Initiate Phone Sex (for Dummies)"… and another stupendous, star-studded bacchanalian Spanksgiving throwback (Seasons Beatings!) and more.
Read more prose and watch the shows (that are too kinky for Youtube): https://drsusanblock.com/fdr-meta 
Need to talk PRIVATELY about something you can't talk about anywhere else? You can talk with us… Call the Therapists Without Borders of the Dr. Susan Block Institute anytime: 213.291.9497. We're here for YOU.