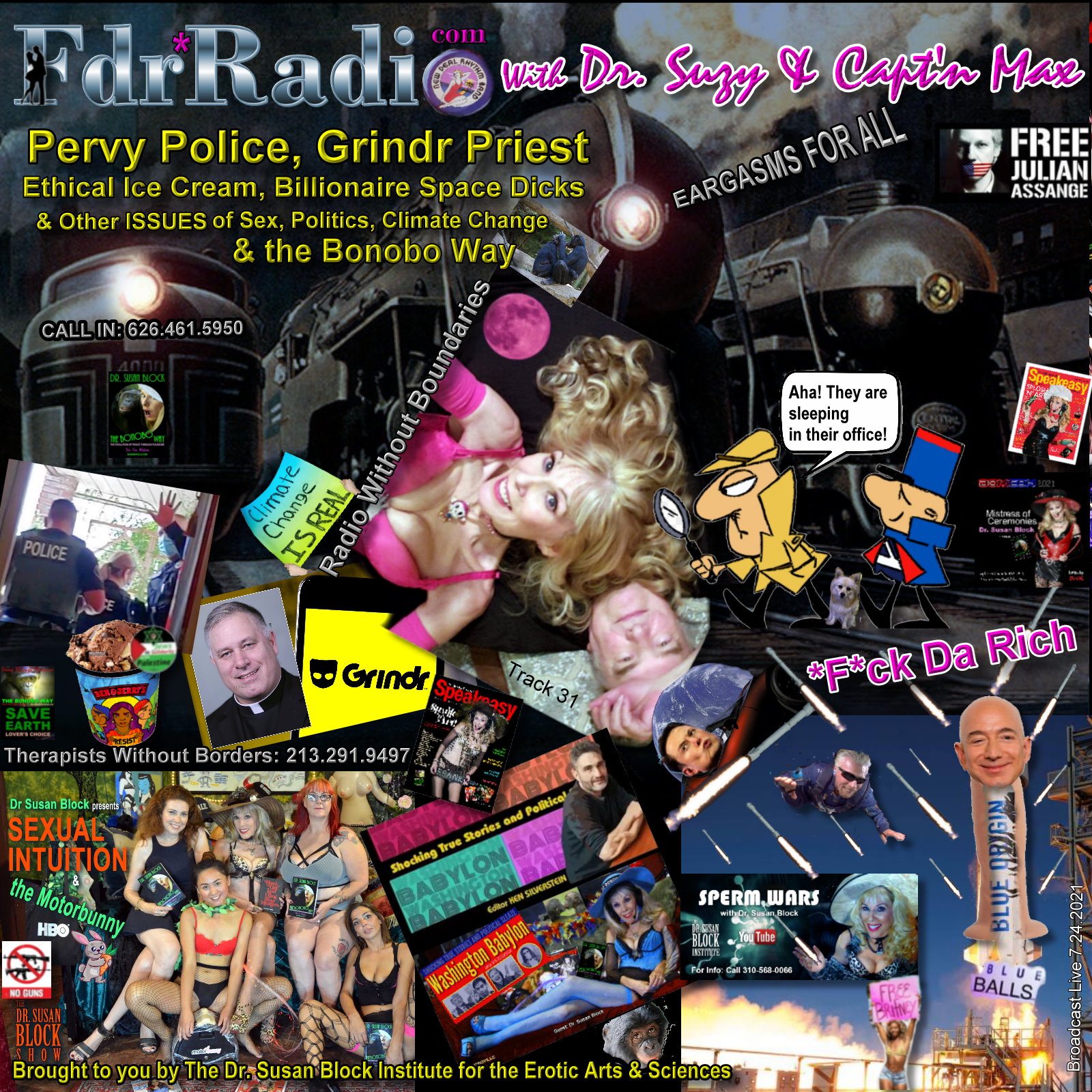 Warning: Explicit Conversations About Politics, Culture, & Sexuality
Slightly shocked and quite incensed by the recent, ridiculous, groundless and rather prurient *police raid* of F.D.R. broadcast studios, we hop on the Love Train to share the story and our plans to respond to this illegal assault.
 
We also talk about other stuff, like Bezos shooting his trash-spewing cock-rocket into the suborbital cosmos for the latest episode of Billionaire Sperm Wars in Space, while Musk buys Planet Uzi (with Dogecoin?).  The rich are human beings like the rest of us—they're just morbidly obese with money. F.D.R. is a radio weight loss program for Da Rich.
One of the main topics of this ride is the torrid tale of the "Grindr Priest," Monsignor Jeffrey Burrill, head of the US Conference of Catholic Bishops, sworn to celibacy and caught picking up cute dudes on Grindr. It's a perfect storm of issues involving sex, spyware, Church-proscribed celibacy, privacy and hypocrisy.
We also cheer fellow Jews for Palestine Ben & Jerrys; recount Ken Silverstein's interview with me—still shaking from the raid!—on his podcast Washington Babylon; Incel Issues & Polyamorous Possibilities; Bennifer kisses vs. ours; DomCon coming; navigating this weird bend in the Coronapocalypse (ok, it's all weird); and then it's back to our Arcadia Keystone Cops police raid, the assault on our business, the handsy frisking and the official yet illegal "inspection" of our building and our bodies. At least, nobody got killed or hurt. Just a little light molestation under color of law. Stay tuned for our response to this unconscionable invasion…
And stick around for this week's sapiosexual, multi-orgasmic post-show throwback, "Sexual Intuition & the Motorbunny" featuring "How to Get Laid Using Your Intuition" author Susanna Brisk, ultra-hot porn star Elle Voneva, voluptuous FemDom Jenna Rotten and more! Watch the show (along with other videos we can't show you on Youtube), and read all about the pervy police raid: https://drsusanblock.com/fdr-pervy-police-grindr-priest
Need to talk PRIVATELY about something you can't talk about anywhere else? You can talk with us… Call the Therapists Without Borders of the Dr. Susan Block Institute anytime: 213.291.9497.