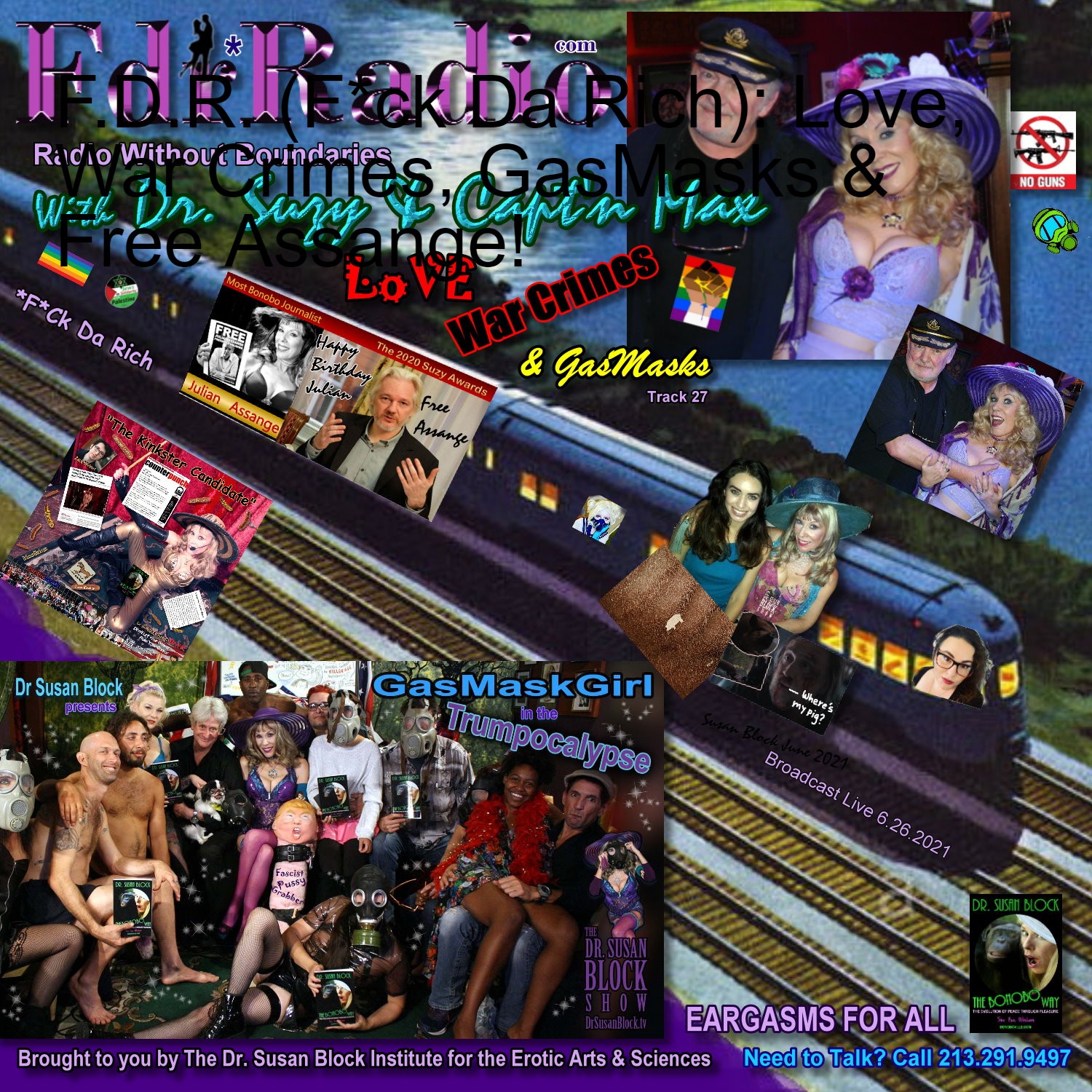 Warning: Explicit Conversations About Politics, Culture, & Sexuality
We get into a veritable orgy of topics on this Love Train ride!
With lusty love for kinky orgasms, starry-eyed hope for War Crime-exposing journalist Julian Assange to finally be freed from America's chokehold in an English dungeon, nauseated laughter over the Sorest Loser being back on the Ammosexual American Vanity and Insanity tour, cheers for the Stonewall Rebellion flamboyantly GAY sex revolutionaries, we-told-you-so feelings for the latest SESTA/FOSTA news, disgust for military IFOs and excitement about a dirty "PiG" (and no, we don't mean Nicolas Cage), we choo-choo to a great sapiosexual climax to June, 2021.
Partly in response to the Trumpus Rumpus Rally, and also because it's a spectacular, our after-show throwback is "GasMaskGirl in the Trumpocalypse" (2016) when I predicted we'd all be wearing masks by 2020! Making it a total GasMask night, Mistress Ameena of GMG joins us to talk gasmask chic, the FemDom life, and the pleasurable of face-sitting from her Queening Stool, where she always makes sure her subbie can breathe… unlike Derek Chauvin, who actually has "chauvinist" in his name. But we refrain from calling him a male chauvinist "pig" because we're excited about Vanessa Block's new film of that name. 
The American Military-Industrial Complex (MIC) and the Prison-Industrial Complex (PIC) both have Julian Assange in a chokehold, though, with the chief U.S. witness admitting he lied, the Wikileaks publisher really should be released, but will he be? 
Now it's been proven: SESTA/FOSTA does not PROSECUTE guilty sex traffickers, but PERSECUTES innocent sex workers and all of our freedom of erotic expression. 
And we explore an orgy of other topics, including male circumcision; my Counterpunch article on "The Kinkster Candidate" Zack Weiner (a Weiner who's not being a wiener, even though outed); the Stonewall Rebellion vs. the MIC's "woke" recruitment ads; IDF war crimes against Palestinians; the Pentagon's report on UFOs vs. the Pentagon's actual IFOs (bombs); Ron Jeremy in jail; the farting fetish; fears and joys of pegging; marvels of mature orgasms; how pleasure heals pain... temporarily.
Read the journal and watch the hot GasMaskGirl show and other videos we can't show you on Youtube: https://drsusanblock.com/fdr-gasmask
Need to talk PRIVATELY about something you can't talk about anywhere else? You can talk with us… Call the Therapists Without Borders of the Dr. Susan Block Institute anytime: 213.291.9497.