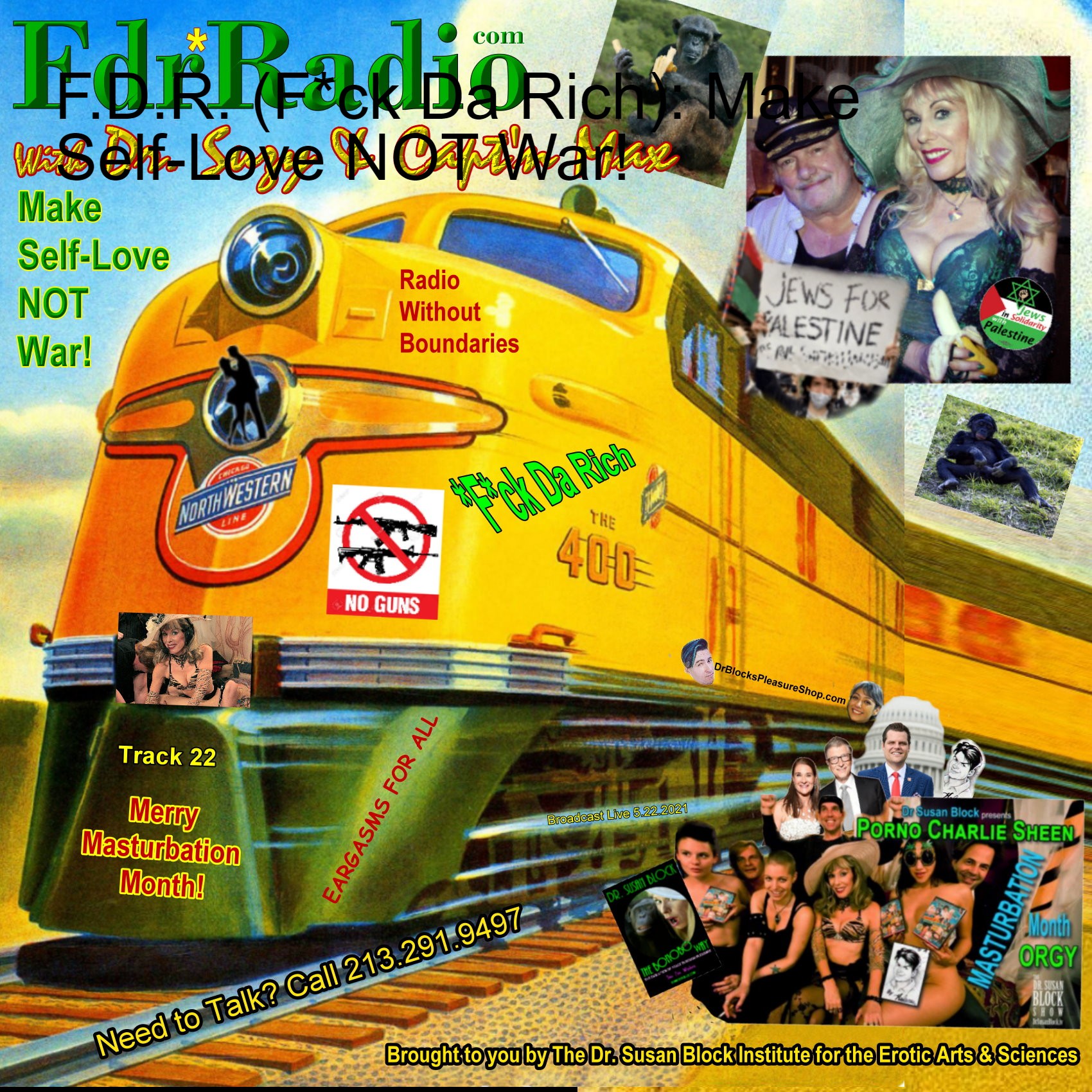 Warning: Explicit Conversations About Politics, Culture, & Sexuality
This lusty locomotive roars out of the station with Capt'n Max raging against gun violence, followed by my kinky but fairly simple solution: Shoot the gun between your legs! Seriously, we Americans should stop denigrating sex (including solo sex) and fetishizing guns. Otherwise, we'll all shoot ourselves in the foot—and the head—in an ammosexual orgy of gun, bomb, knife and knee violence at home, as well as in America's (and our mercenary client state Israel's) wars and occupations abroad. This is one reason we're celebrating Masturbation Month 2021 as if our lives depend on it—because they do. If we don't go The Bonobo Way, we'll all die in a hail of bullets—and I don't mean the cute little vibrators.
Masturbation denigration begins at home, influenced by the original "influencer," that old-time religion, We take a call from Adriana who grew up in no-premarital-sex Evangelical "purity" culture, but is finding freedom through masturbation and other sex-positive exploration. Mariah chimes in with her similar experience growing up Catholic. Then we take a call from U.S. Army Captain Chris who loves mutual masturbation (so do Capt'n Max and I!) and graciously tolerates my severe criticisms of his employer, the Military-Industrial Complex. I take a moment to lament how the Woke Mob (with whom I often agree) has thoughtlessly ruined one of my favorite words to describe how mammals take care of each other, "grooming." When asked by scandal-starved listeners, I offer my views of Gates-Gate AND Gaetz-Gate, as well as Matt Gaetz Wingwoman/Wingnut Margarine Taylor Greene's latest anti-Semitic inanities. Speaking of anti-Semitism, it's on the rise, sadly but unsurprisingly. Blame it on Israel, and I do. Masturbation Not Occupation!
So, I've "come out of the closet." #JewsforPalestine! It began when I was 16 and impulsively ditched my Camp Ramah tour group activities to jump on a motorcycle with a handsome Palestinian boy who took me on a tour of Old Jerusalem and kissed me in the Garden of Gethsemane. When I asked where he was from, he replied, "Here," and thus commenced my Palestinian education… Listen to this story and much more on this edition of F.D.R…
Need more? Go Bananas for bonobos and give The Bonobo Way for Masturbation Month, Gay Pride Month, Kink Month or any month at all! And don't miss this week's post-show throwback: "Porno Charlie Sheen Masturbation Month Orgy," which just goes to show how a little self-pleasure can turn into an orgy - featuring Evan Stone (as Charlie),, Eric John (with whom I share a special *moment*), Vicki Chase, the late great Hollie Stevens, aka Hollie Wood, Jamey Janes and "Charlie Sheen's Porno Adventure" director Jim Powers. When we broadcast this show live in May, 2011, Sheen was at the top of his crazy Tigerblood game, flanked by high class sex workers, acting like the Hunter S. Thompson of sitcom TV. Except Charlie Sheen is no Hunter S. Thompson. When he revealed he was HIV-positive in 2015, he threw his loyal sex worker pals under the bus. F*ck da Rich! But don't bite the hand that f*cks you, Charlie Rich. But that's now, and "Porno Charlie Sheen Masturbation Month Orgy" is from then, way back when.
There's more—so much more! Watch what we can't show you on Youtube and read My Journal: https://drsusanblock .com/fdr-selflove-notwar
Read "Shemah Yisrael" on Counterpunch: https://www.counterpunch.org/2021/05/21/shemah-yisrael/
All the *royals* are opening up about their "mental health" these days, from Prince Harry to Lady Gaga. Maybe you should too! But you might want to do it privately. Remember, sexual health is an important part of mental AND physical health. If you need to talk about something you can't talk about anywhere else, call our Therapists Without Borders anytime: 213.291.9497.