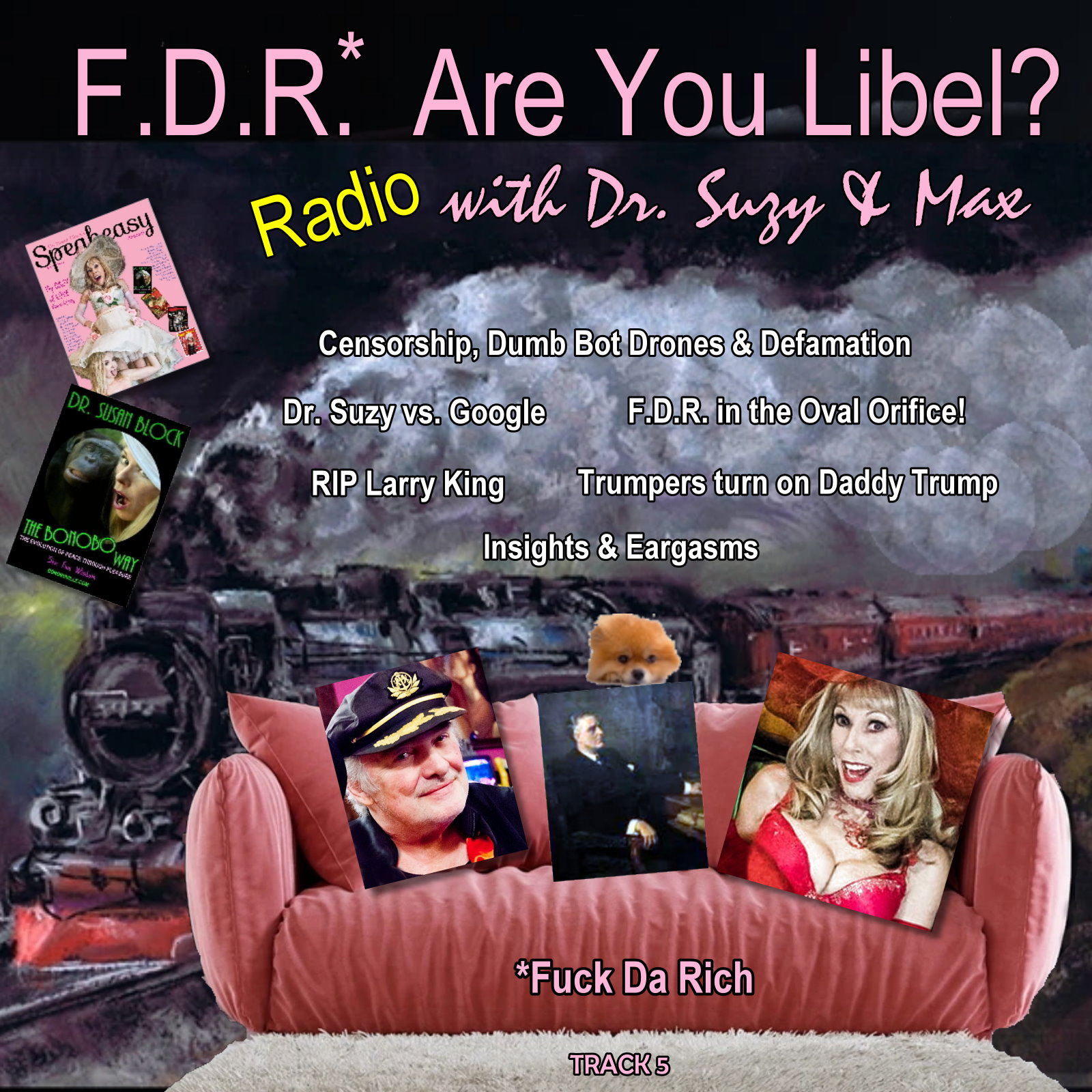 Warning: Explicit Conversations About Politics, Culture, & Sexuality
Whether you're libel, libeled or just liable to go nuts these days, this show is for you. Actually, it's for YouTube. But you can listen in (if they don't censor it). Yes, Youtube is on a censoring rampage, and I am the latest victim of the Dumb Bot Drone Army in Google's Military-Internet Complex. It's not as bad as the U.S. Military-Industrial Complex, but it's joining forces and wreaking damage… as well as damages. Not only did YouTube censor me for no discernible reason, but it also libeled and defamed me. How? I'll give you a hint: It's not what you think it is. Listen to this show for the full crazy-making story.
We also celebrate the end of the Trumpus as U.S. Presidunce. Woohoo! We defeated the fascists (for now)! Amen and AWOMEN! Now we have to wrestle with the boring, centrist, capitalist, anti-sex neoliberals, while still holding firm against the fascists. In other words, we have to F*ck Da Rich, and that's our name, F.D.R. Plus we ask: Who's worse: Diaper Don or Deadly Dubya? And we talk about Julian Assange (#FreeAssange!), the QAnon Shaman and other Trumpers now turning on "Daddy Trump"; Robbie Martin's in-depth interview with me, "Sex Workers Battled Big Tech First, Obscenity Laws & Cuckolding in the Trump-era with Dr. Susan Block," on Media Roots Radio; Capt'n Max's Mafia Prison Feasts; Ben Franklin (friend of Max's ancestor Gaetano Filangieri) and Franklin Delano Roosevelt (F.D.R.—that's us!) in the Oval Orifice + more insights and eargasms, riding that train through time in the Speakeasy bar car. All aboard!
For more, go to https://drsusanblock .com/libel
To listen to the show that YouTube censored, go to https://drsusanblock.com/insurrection
Need to talk PRIVATELY about something you can't talk about with anyone else? You can talk with us… Call the Therapists Without Borders of the Dr. Susan Block Institute anytime: 213.291.9497. For more information, visit https://drsusanblockinstitute.com/phone-sex-therapy. We're here for YOU.