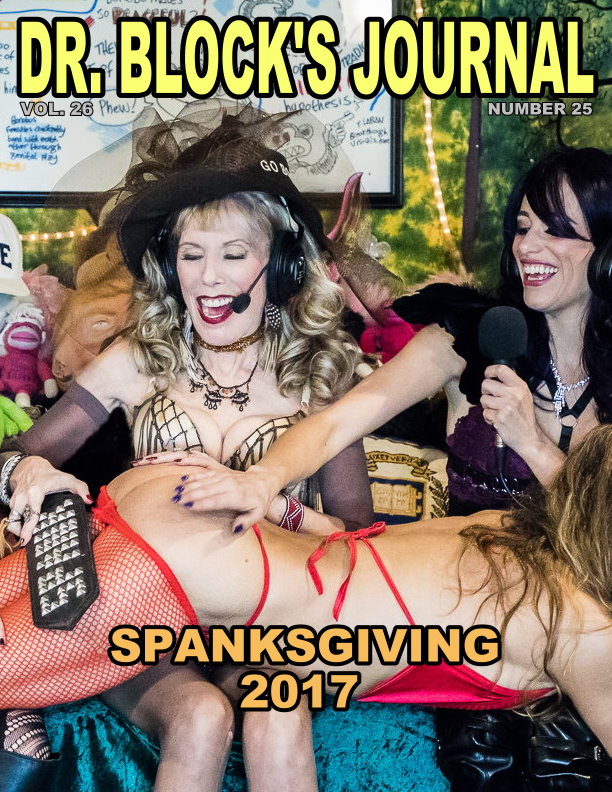 Warning: Explicit Conversations About Politics, Culture, & Sexuality
Assume the position. On your knees, back arched, panties down, buns bared and ready. Now watch this spanking hot Spanksgiving show from the Days of Lust and Orgies B.T.C. (Before The Coronapocalypse) way back in nostalgically Naughty November 2017.
My Spanksgiving "sermon" on the Great American Hoax of Thanksgiving, the Pilgrim/Puritan history of Spanksgiving and the erotic virtues of consensual adult spanking opens the show. Then I play Mother Confessor to my guests' true confessions of traumatic childhood spankings (which reminds me: Don't spank children; only consenting adults!), revealing the complex, stingy web corporal punishment weaves through generations. Then it's time for the fun grown-up spanking—plus striptease, birthday cake splosh, pegging, paddling, politix—and more spanking. We even have a Bonoboville Boob-Spanking Butt Bongo Conga Line!
It's Our Duty to Spank Booty on Spanksgiving!
We also spank and stuff the Trump Turkey to the tune of Carmina Formosa's "The Kinkster," the ultimate Spanksgiving song.
My guests feature several SUZY Award-winners, including voluptuous artist and college professor, Rhiannon Aarons; author, wrestler and former Penthouse Pet Christine Dupree; sexy Dominatrix and Birthday Gal Madame Raven Rae; Spankable MiLF Brigitte B (getting a Spanksgiving book-spanking with the Bonobo Way); a big fat naked and squawking Trump Turkey, the sorriest looking slab of white meat ever to sit in the White House, played by artist's model Michael Q. Schmidt, getting spanked hard for his numerous sins, as well as stuffed by Putin (Tim Sewell) and two strap-on sporting FemDoms. Into the splosh steps Bonoboville rap master Ikkor the Wolf, the HipHop Prince of Spanksgiving, howls "She Bad," surrounded by the Four Bad Angels of Naughty November.
Much of this show has been censored for Youtube. Watch it uncensored and free at https://drsusanblock.com/spanksgiving-2017
Need to talk PRIVATELY about spanking, stuffing, holiday sex, the holiday blues or anything else you can't talk about with anyone else? Call the Therapists Without Borders at the Dr. Susan Block Institute anytime: 213-291-9497. We're here for YOU.