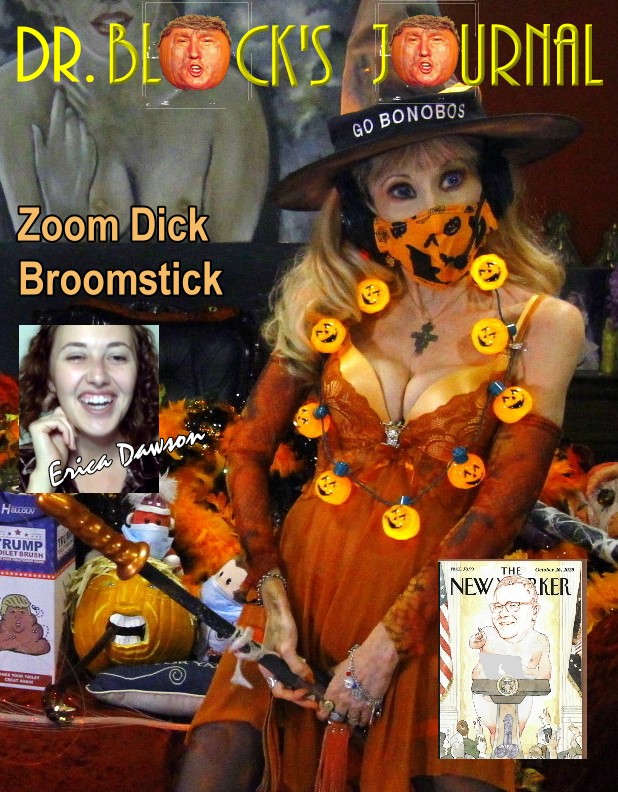 Warning: Explicit Conversations About Politics, Culture, & Sexuality
 From scary sex to a ghosting guest, spooky lookin' to kooky cookin', broomstick to Zoom Dick to anal ick… it's my 24th Bedside Chat of the genuinely haunted, thoroughly creepy, sporadically masked and always gaily costumed Coronapocalypse.
 Edging toward another Halloween, in BOOnoBOOville, I hop on my Magic Dildonic Vibrating Broom and ride into the Womb Room, calling upon my virtual coven of "witches, bitches, tramps and vamps" with my traditional Halloween Ode to the arousing agitation and piquant pleasures of scary sex and erotic revolution. It's The Bonobo Way!
It helps that the guest who doesn't ghost us is a fun one: "Kooky Cookin'" comedienne, singer and burping (yes, burping!) fetish model Lady Erica Dawson.
We also discuss the New Yorker's Jeffrey Toobin and his notorious case of Zoom Dick and Zoom Dick Outrage + Rudy Ghouliani (he doesn't need a costume), Smashing Trumpkin(s) and other kinky Tricks and sexy Treats in a Witch's Brew of pleasure… with a pinch of pain.
Later, as the title for this show appears to me like a ghost in a dream, it occurs to me that Zoom Dicks and Broomsticks are both phallic objects with seemingly magical powers that can be used for good or evil. It all depends on the context and the weather conditions through which you're flying.
We play a few clips from our super wild, orgiastic "Erotic Insurgent Masquerade" from Halloween 2007, featuring gorgeous porn star Darryl Hannah, that we can't possibly show you on Youtube, but you can see it all uncensored and free on DrSuzy.Tv plus read the sapiosexual show journal:  http://drsusanblock .com/zoomdick-broomstick
 Need to talk PRIVATELY about YOUR Zoom Dick, broomstick, kink, politics, fetishes or anything else that you can't talk about with anyone else? You can talk with me or one of our other Therapists Without Borders at the Dr. Susan Block Institute anytime. Call 213-291-9497. We're here for you.