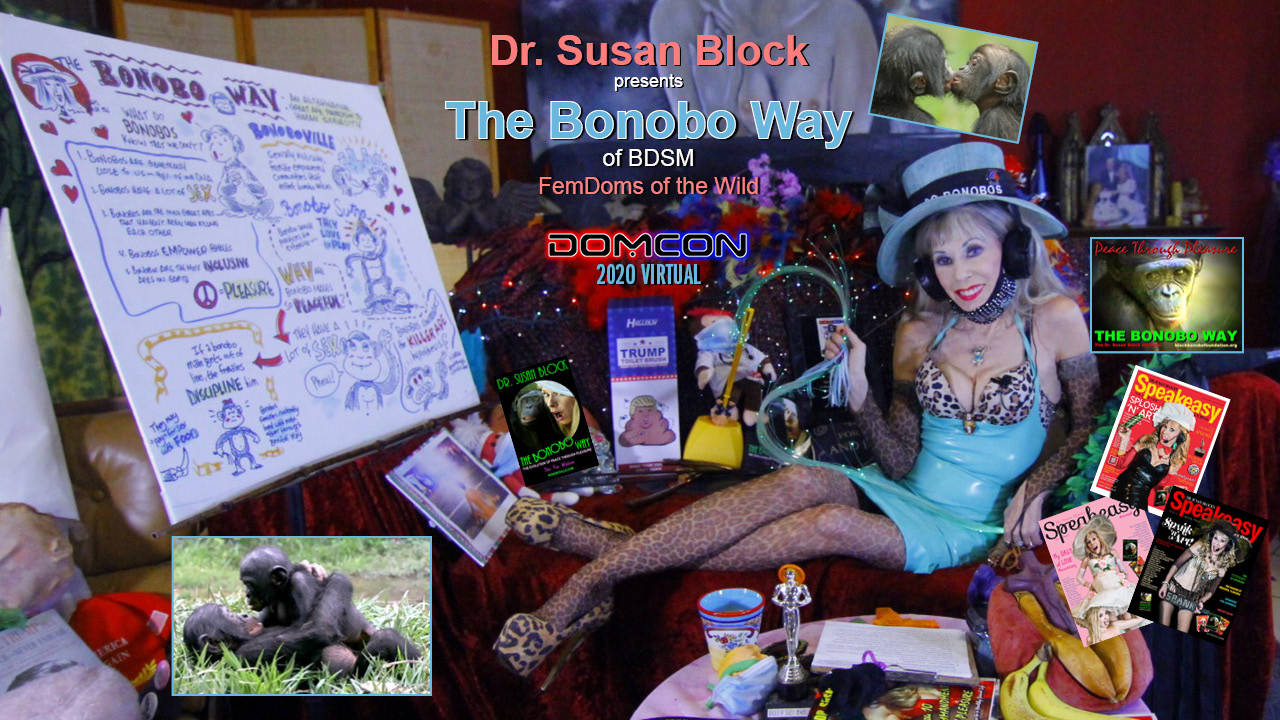 Warning: Explicit Conversations About Politics, Culture, & Sexuality
 It's My 5th presentation of the Bonobo Way at DomCon LA. But this time, there's no audience, at least not in person. Welcome to the DomCon-O-Sphere with DomCon 2020 Virtual attendees all over the world, but none in the room with you. I miss the physical contact, but it does free my mind to concentrate on the content, making this the most intimate, informative "Bonobo Way of BDSM: FemDoms of the Wild" class yet. I've long called DomCon the Comicon of Kink and the Met Gala of Fetish. Now, in the Coronapocalypse, it's also the TED Talks of BDSM.
 The Bonobo Way is, of course, based on real bonobos, our closest Great Ape cousins who have lots of sex (much of it what we might call "kinky"), empower the females and take care of the males. Plus, they're the only Great Apes that don't kill their own kind. The Bonobo Way doesn't show you how to tie someone up, worship their feet or spank them OTK (over-the-knee); there are plenty of other great DomCon classes for that. What it does teach you is how natural it is to enjoy doing those and other kinky things, to empower the females while keeping the males happy, to share resources and to make peace through pleasure, sometimes through what I called "Bonobo BDSM."
 Human FemDoms need physical skills, but we also need a philosophy and a natural precedent, a female-empowering Great Ape paradigm to knock the antiquated, competitive, murderous, ecocidal "Killer Ape" paradigm off its filthy rotten pedestal, along with those racist, old Confederate statues, to be swept into the trash bins of history… hopefully before it's too late.
 Towards the end, my crew hands me a print-out of comments from DomCon Head-Mistress Cyan, Goddess Phoenix, my fellow MC, Simone Justice and many others. What a blessing to feel the DomCon love from my bonoboësque FemDom sisters who, like real bonobos, aren't blood sisters, but "chosen family."
 I also show some of these great FemDoms of DomCon and others such as Madame Margherite (who gives me a "Best Animal Activist" award at the Animal Play Awards over this very special DomCon for My Bonobo Advocacy), Goddess Soma Snakeoil, Mistress Mia Darque, Goddess Phoenix Steele, Mistress Porcelain and many more. This presentation is dedicated to the loving memory of Goddess Sadie Hawkins.
Check out the DomCon 2020 Journal: http://drsusanblock.com/domcon-2020
Get The Bonobo Way: http://amzn.to/1zimlbP
Help Save the Highly Endangered Bonobos from Extinction: http://blockbonobofoundation.org
Give to Lola ya Bonobo, Bonobo Conservation Initiative, The Bonobo Project Want to Release Your Inner Bonobo?
Go to http://drsusanblockinstitute.com/bonobo-liberation-therapy
or call the Therapists Without Borders at the Dr. Susan Block Institute anytime: 213-291-9497.